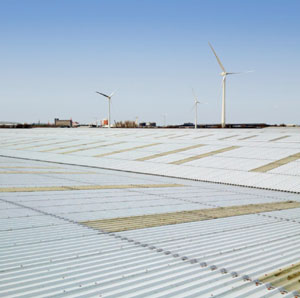 With distribution warehouses that are controlled by electronic systems driving conveyors to handle millions of pounds worth of goods each and every day, Amazon says it is imperative to the company that such an environment remains completely dry, and so it was no surprise that Delvemade's SEAMSIL was recently specified and used to treat the metal roof of one of Amazon's distribution facilities based in Bristol.
Invented and developed by Delvemade over 20 years ago with the full co-operation of BSC (now Tata Steel), the company says the patented silicone external repair system is the time-proven external repair system for cut edge corrosion on profiled Plastisol/PVDF coated steel roof sheeting.
It says SEAMSIL provides an effective long-term solution to edge corrosion in critical roof overlaps and gutter overhangs, which, if not treated quickly and effectively, can lead to leaks and eventually to partial or complete roof replacement.
Approved contractor High Access Maintenance undertook the project also using DELCOTE HPG, another product manufactured by Delvemade, specifically for the refurbishment of galvanised steel, aluminium plus concrete and asbestos cement gutters.
Used in conjunction with SEAMSIL 300 for defective joints, the coating system provides a seamless solution to long-term weatherproofing of gutter surfaces.
Manufactured by Delvemade in Manchester, SEAMSIL and DELCOTE HPG are available from Giromax Technology who oversee all UK installations. The company says the sole distributor helps ensure that specification and application will provide a sustainable answer that will extend the life of roofs and preserve the value of buildings.
Tags