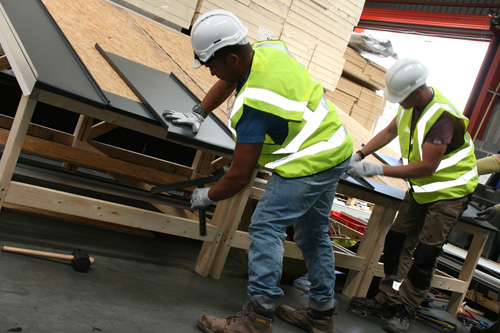 Catnic has opened a new training centre in Caerphilly, Wales, for its SSR² Roofing and Cladding system. The new facility will provide roofing contractors and trade professionals with practical and theoretical training when it comes to correctly installing the standing seam system.
The new SSR² Standing Seam Roofing and Cladding system is manufactured from Tata Steel's Colorcoat HPS200 Ultra and as such, offers an alternative to copper or zinc standing seam.
Catnic says SSR² is seven times lighter than conventional roof tiles making it easy to install and handle on site. The BBA-approved system is suitable for pitched roofs as low as 5° as well as vertical and horizontal cladding applications.
Furthermore, SSR² is available in a range of finishes to meet the aesthetic requirements of a range of buildings and integrate with the surrounding area.
The new SSR² training centre features a fully-equipped classroom environment to provide attendees with an introduction to, and theoretical grounding on, the pre-coated metal standing seam system.
In addition, the centre has four specially developed rigs to allow both basic installation training and instruction on a range of situations that could be encountered on site. This includes how to modify the panels to fit roof features such as roof windows and chimneys.
To find out more about the course and book your place visit www.catnic.com/products/ssr²-roofing-and-cladding/installation-training
Tags