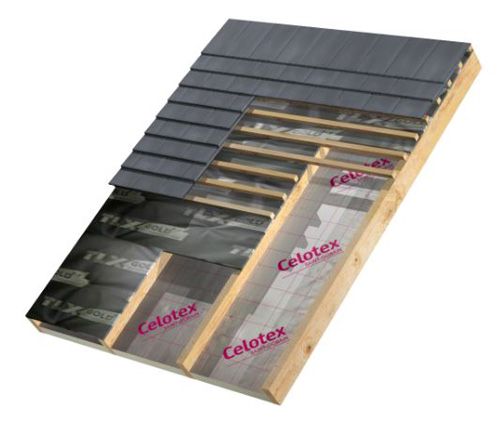 Celotex and TLX Insulation have teamed up in a unique partnership to offer a solution for re-roof situations where a vapour barrier can't be fitted because there's an existing ceiling under rafters and the roof can't be raised.
The Celotex Rafter-Gold system combines the high insulation performance of Celotex's GA4000 board with the freedom from condensation risk of TLX Gold 2-in-1 insulating breather membrane.
TLX Gold can be draped over the rafters without the need to counter batten. It combines a high-quality breather membrane with a heat-reflecting underside, which actually responds to increasing humidity levels by increasing its breathability.
The company says GA4000 boards from Celotex are well established in the market for providing excellent thermal performance at an economic price. Together the products offer a synergistic performance to achieve the best possible U-value combined with freedom from condensation risk, filling a real gap in the refurbishment market.
The Celotex Rafter-Gold system is offered for rafter depths of 100mm and 125mm, achieving U-values of 0.33 W/m²K and 0.26 W/m²K respectively. Both build-ups are LABC Registered Details and both products have BBA Certificates, giving a guarantee of performance.
Speaking to Roofzine, Thomas Hunt, sales director for TLX Insulation, commented: "TLX insulation is delighted to announce this new partnership with Celotex. For the two leading manufactures in their respective areas to come together in this way and develop a truly innovative solution for the pitched roofing market, is a huge step forward for the industry. It moves away from promoting individual products to developing genuine systems for our customers."
Tags