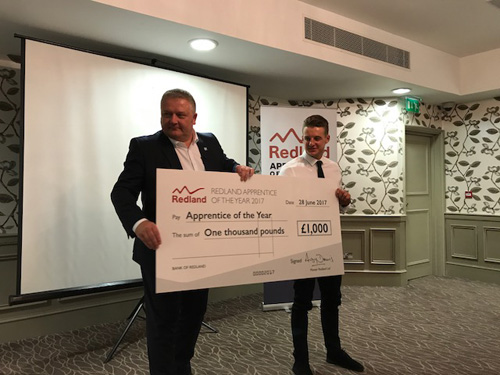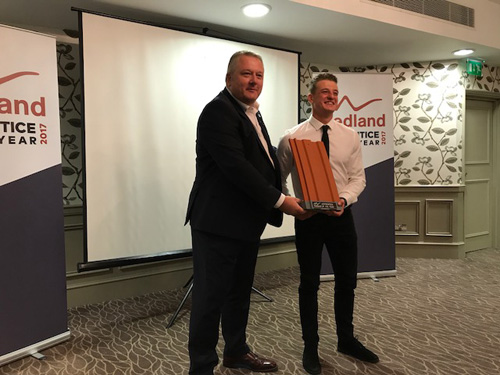 After two days of tough competition at the Redland National Training Centre, Joe Stradling (age 26), training with NCC South and apprentice to West Country Tiling, triumphed in a strong field made up of ten of the UK's best roofing apprentices, with Thomas Knight, training with South West Roof Training Group and apprentice to Wheeler Roofing Services, picking up the Judges' Highly commended Award.
Redland selected the apprentices from building colleges throughout England and Wales including applicants from as far north as County Durham and as far south as Chelmsford. After receiving 40 entries, Mat Woodyat, Redland's national training manager, and his team had the difficult task of whittling the field down to the ten Finalists.
The apprentices were put through their paces with a series of sessions including Estimating which was very much classroom-based; Defect Detection and Remedy, which included the apprentices assessing a pitched roofing rig which had been set up with nine defects and one overall issue which the apprentices had to identify and then individually talk through with the judges who were posing as customers. If that wasn't tough enough, further sessions on Business Plans and Presentation Skills – which included an excellent talk from Dean Bellman from Value Behaviours – really took the apprentices out of their comfort zone and into areas that would have been very alien to all of them. Mat Woodyat explained: "The two days threw up some huge challenges and put them in some challenging situations which I imagine they haven't encountered before – presenting a business plan as part of a group but also having to do an individual five minute talk on a subject of their choice in front of a panel of judges – that's daunting for most people, no matter what stage you are at in your career."
The judging panel, which included Andy King, President of the NFRC and owner of AL King Roofing, Nigel Shapland, senior technical officer at NHBC, Simon Dixon, NFRC's technical officer / technical manager at Competent Roofer and Matt Downs, editor of RCI magazine, were blown away by the standard of all the apprentices and the way they applied themselves to each task and took the knowledge they had gathered over the two-days and applied it to their final presentation in front of the judges.
Matt Downs explained: "What shone through in all the apprentices in various ways throughout the two-days of competition was their passion for roofing and their eagerness to learn and succeed in their careers. For me, this was most notable in the way they picked the brains of the experts with regards to regulations, business planning and all areas of roofing with many bringing this information together in their final speeches; there was a noticeable shift in confidence from all the apprentices from day one to day two which showed they all learned from the tasks.
"This sort of event is only as good as the apprentices themselves. We had ten great competitors all hungry to learn and win. There had to be one overall winner and Joe is a worthy winner who showed strength in all the tasks and will no doubt go on to have a great career in roofing. Credit should be given to the team at Redland for putting on such an important event for the industry and all the sponsors who kindly donated prizes and gifts for the apprentices. I look forward to seeing who is Redland's Apprentice of the Year 2018."
Redland's Andy Dennis presented Joe with a trophy, certificate and a bag of merchandise, plus a cheque for £1,000.
All the apprentices received certificates, merchandise and a voucher for £100 from Screwfix.
Tags