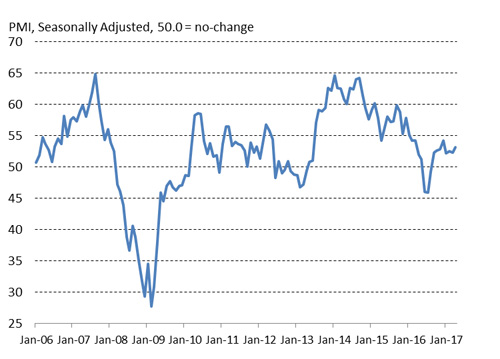 The construction industry has seen a mixed start to the year, with monthly figures from Markit/CIPS reporting a sharp rise in total construction output for April, quarterly home registration figures on the increase and reports of an increase in sales, output, and workloads but also costs from contractors and manufacturers.
The seasonally adjusted Markit/CIPS UK Construction Purchasing Managers' Index (PMI) pointed to a solid rise in overall construction output, signalling the sharpest rate of expansion so far this year. Civil engineering was the best performing sub-category of construction activity in April, with the rate of expansion the fastest since March 2016. Growth of residential building also accelerated, reaching a four-month high and commercial building work increased only slightly and at a weaker pace than in March.
April data pointed to a solid upturn in new work received by UK construction companies, with the rate of expansion the strongest seen so far this year. However, mirroring the trend seen for business activity, the latest upturn in new work remained much slower than seen at the peak phase of the recovery in early-2014.
Higher volumes of new work encouraged further job creation across the construction sector in April. The rate of employment growth was the strongest since May 2016. Survey respondents indicated additional pressures on the availability of sub-contractors during April, which added to signs of challenges in recruiting skilled labour.
Demand for construction materials increased in response to a sustained upturn in new work, as highlighted by a renewed upturn in input buying during April. These figures are aligned with the Construction Products Association's (CPA) Construction Trade Survey Q1, which shows that the past depreciations of Sterling continue to exert upward pressure on input costs across the industry.
An increase in overall costs was reported by 84% of civil engineering contractors, whilst 86% of main contractors, 93% of heavy side manufacturers and 93% of light side manufacturers also reported a rise in raw materials costs.
Meanwhile, weak activity in the industrial and commercial sectors resulted in main building contractors experiencing a decrease in activity, with 31% reporting that construction output fell in the first quarter of 2017 compared with a year ago. In addition, Q1 order books were reported to be lower across the majority of sectors for both main contractors and civil engineering contractors.
However, SME builders, civil engineering firms, product manufacturers and specialist contractors all reported a strong start to 2017 with increases in sales, output and workloads in Q1 driven by increased demand.
Commenting on the survey, Rebecca Larkin, Senior Economist at the CPA, said: "Q1 was a positive opener to 2017 for product manufacturers, specialist building contractors and SME builders, continuing the momentum built up over the last four years of growth. For main contractors, however, it was only private sector house building that provided the bright spots of activity during the quarter. Falling orders in the commercial and industrial sectors also spilled over into infrastructure in Q1 and signal a broader weakness ahead.
"Furthermore, in contrast to the continued rise in costs reported during the quarter, particularly for imported raw materials, building contractors' tender prices are moving in the opposite direction. This suggests that it is margins, rather than clients, that are bearing the brunt of cost inflation."
Finally, latest figures from the National House-building Council (NHBC) have reinforced that positive start to the year for the residential sector, with more than 42,000 new homes registered in the UK in the first three months.
42,470 new homes were registered in Q1, an increase of 17% on the 36,351 registered 12 months ago – resulting in the highest quarter in 10 years.
31,197 homes were registered in the private sector, an increase of 10% on the same period a year ago (28,278), with 11,273 new homes registered in the affordable sector, representing a 40% increase on 2016 numbers (8,073).
New home statistics for the financial year also reveal a 4% increase for 2016/17 with a total of 157,898 new homes registered compared to 151,599 in 2015/16. Additionally, new home completions for the financial year increased by 5% to 145,282, up from 137,826 in 2015/16.
For the first time in seven years, all 12 regions across the UK experienced growth in registrations, when compared to the same period 12 months ago. The North East (+39%), London (+38%) and Eastern (+31%) were among the regions with the most notable growth.
Commenting on the latest new home statistics, NHBC managing director Neil Jefferson said: "These figures, with growth across the entire country, are clearly encouraging for the sector, at a time when there is considerable demand for new, high-quality homes.
"This growth in Registrations, in both the private and affordable sector, is welcome news and will result in more newly built homes across the UK over the coming months."
Tags