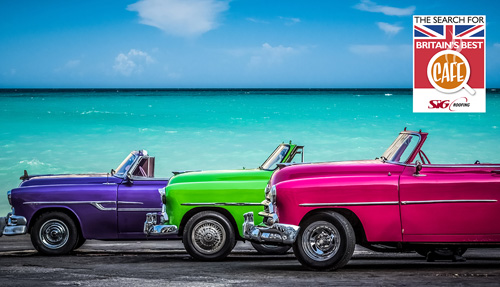 Voting opens on July 17 for SIG Roofing's search for Britain's Best Café, and cafes up and down the country will be doing all they can to gain their customers' support in the national competition where every vote counts!
Running for a second consecutive year in response to 2016's hugely popular competition, SIG Roofing is working hard to rally support for this year's inspirational entrants and is keen for everyone to get involved, whether they are a roofing contractor, builder or member of the public.
With the company's branches, customers and local cafes all playing an important role in each other's day-to-day lives, Britain's Best Cafe is SIG Roofing's way of continuing to recognise and thank cafes on behalf of all those that enjoy the tasty food and excellent service they provide to their local community.
In November, once all the votes have been counted, 14 regional winners will be announced and cafe owners will attend a celebratory lunch at one of London's most stunning venues, The Brewery, where the national winner will be revealed. The lucky winner crowned as the nation's favourite will win a glorious 7-night holiday to sample the sun, sea and rich flavours of cuisine in Cuba.
SIG Roofing's marketing manager Janine Brady is looking forward to supporting this year's cafes and welcomes the opportunity to strengthen the links between SIG Roofing's customers and the cafes that make a positive difference to their working day.
Janine explained: "Service with a smile and a warm welcome is key to the long-standing relationships we've developed with our customers in our branches – something they also experience when they visit their favourite local cafe. Many of our customers visit the same cafe as part of their daily schedule during their working lives, which is why our branches are making every effort to support their local cafes and their own customers' favourites."
Votes can be placed in any of SIG Roofing's 120 branches or online at www.britainsbestcafe.co.uk from July 17 and the cafe receiving the most votes will win the competition. Everyone is invited to join, so be sure to get involved and vote for your favourite!
Tags