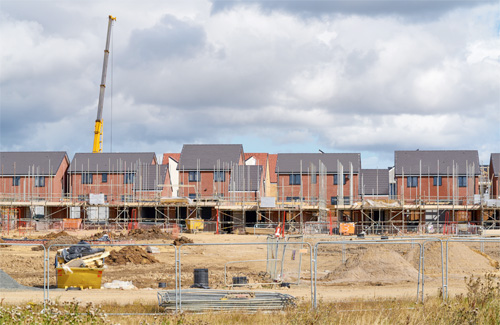 Key results from the FMB's House Builders' Survey 2017 has revealed the barriers that SME housebuilders are facing, including:
Over half of small housebuilders (54%) say accessing finance is a major barrier to their ability to build more homes (up from 50% in 2016)
A lack of available and viable land is the most commonly cited barrier (62%) to increasing output and 54% believe that the number of small opportunities for small site development are decreasing
42% of SME housebuilders said that a shortage of skilled workers is a major barrier to their ability to build more new homes, and this rises to half (49%) when asked to look ahead over the next three years
One in three small housebuilders that employ EU workers believe the end of free movement will be a major constraint on their ability to build more homes
Half (49%) of SME builders view the planning system as a major constraint on their ability to grow and 'inadequate resourcing of planning departments' was again rated as the most significant cause of delay in the planning application process.
Brian Berry, chief executive of the FMB, said: "Almost a decade after the financial crisis, access to finance for small housebuilders is getting worse instead of better. Assessments of lending conditions to SME developers were down slightly from 2016, the first fall in this measure since 2013. Small housebuilders express generally positive views of some recent Government initiatives in this area, such as the Home Building Fund, but we clearly need to double down on these efforts to make sure that SMEs have access to the finance they need to build Britain out of its housing crisis.
"Our research also affirms just how vital it is that the Government acts on key proposals in the Housing White Paper published earlier this year and designed to increase the opportunities for smaller scale development. The White Paper quite rightly emphasises the need to diversify the house building sector so it is less reliant on a small number of large housebuilders. In order to do this, we need the Government to make good on its proposals to improve the availability of small sites and speed up the planning process for small sites."
Berry concluded: "If we get it wrong, Brexit and the end of free movement could further exacerbate the skills shortages we already have. The survey finds one third of SME housebuilders currently employ EU workers and this rises to 70% in London and the South East. The potential impact of post-Brexit immigration changes is therefore a cause for concern among small housebuilders. That's why it's so important that the Government introduces a transitionary period that allows the UK house building sector to gradually wean itself off high levels of EU labour."
On Wednesday September 6, London Mayor, Sadiq Khan, published The London Housing Strategy draft. Commenting on the draft, Barry Mortimer, director of FMB London, said: "If we're to build the number of new homes Londoners need, we must urgently make much better use of the many existing small sites that are dotted all over London. In doing so, we will the strengthen the capacity of SME housebuilders to build more new homes and perhaps even attract some new SME firms into the market."
Mortimer continued: "We therefore welcome strongly the Strategy's proposal for a presumption in favour of appropriate residential development on small sites, which goes further than proposed changes to national policy as laid out in the Government's Housing White Paper. The 'Small Sites, Small Builders' programme will also link up public land owners with small builders, which could make accessing public land easier for small firms. We also welcome moves which will mean that less of the Community Infrastructure Levy is payable upfront on small sites. This will really help with cash flow for smaller builders and make the economics of small scale development slightly easier."
Mortimer concluded: "The London Housing Strategy therefore marks a step forward in empowering smaller housebuilders in London. In order to reach the 50,000 new homes London needs to build each year, this renewed emphasis on small sites is vital. However, all such progress could be undermined if the Mayor fails to protect small sites from onerous levels of developer contributions. National planning guidance states that planning obligations should not be sought from developments of ten units or fewer, but implementation of this policy in London is patchy at best. Unless the Mayor and London Boroughs recognise the need to minimise burdens on the very smallest developments, SME builders will continue to struggle to enter the market."
Tags