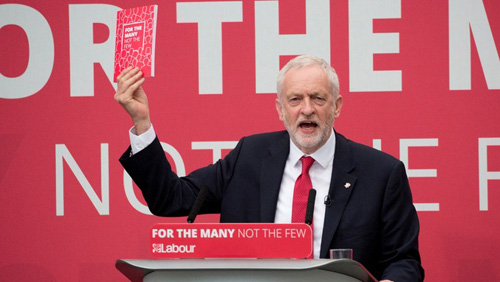 Yesterday the Labour Party released its manifesto for the 2017 General Election pledging to build over one million more homes, with at least half for social rent; to guarantee help to buy funding until 2027 and give locals buying their first home "first dibs on new homes built in their area", and to offer homeowners interest free loans to improve their properties.
On workers' rights, the prospective Prime Minister pledged a raise in the minimum wage to "at least £10 per hour by 2020"; the use of public spending power to drive up standards, including only awarding public contracts to companies which recognise trade unions, and to give all workers equal rights from day one, whether part-time or full-time, temporary or permanent.
Responding to the announcement of a proposed link up of housing and skills policy, Brian Berry, chief executive of the Federation of Master Builders, said that this "would be the right approach for a post-Brexit UK".
He commented: "Labour's pledge to integrate housing and skills policy is the right approach to tackling two of the key challenges we face in the building industry. We are building too few homes in every part of the UK and this problem is exacerbated by the construction skills shortage. Jeremy Corbyn has said that freedom of movement would end under a Labour Government and it is therefore right that the Party has a clear plan to build the homes we need and train the people we need to build them."
On skills, he added: "It is a strength of the Labour manifesto that it has such a clear focus on apprenticeships and high quality training. The commitment to doubling the number of NVQ Level 3 apprenticeships by 2020 will be well-received by small construction firms. A higher level skills base is key to increasing the UK's productivity which trails behind other leading economies."
Berry concluded: "While Labour's ambitious targets on house-building, to be delivered partly through its National Transformation Fund, are welcome, there is little to address the fundamental issue of industry capacity. Whichever party is in Government after the General Election, a council house-building programme would be a catalyst for boosting the capacity of the SME house-building sector. Ensuring that public sector house building contracts are opened up to SMEs is one key way the Government can buck the usual boom and bust economic cycle and maintain house building capacity."
Referring to the party's infrastructure commitments, Lewis Johnston, RICS parliamentary affairs manager, said: "Labour has committed to investing £250bn over 10 years and will keep the National Infrastructure Commission (NIC). This is the kind of ambition for infrastructure we have called for in our policy manifesto Priorities for the Built Environment, and we're glad to see it given such prominence.
"The NIC has provided much-needed strategic focus to infrastructure policy since its establishment, and deserves to command this level of support. The next government needs to work with the private sector to unlock funding and deliver strategically vital projects – surveying professionals can bring their cost and project management expertise to bear on these schemes – ensuring delivery on time and on budget. Something vital to maintaining and encouraging investment."
He concluded: "As the election campaign picks up speed, it is encouraging to see the parties start to set out clear policies for the built environment. However, as ever with manifesto commitments, the test of applicability is whether they can be funded. As polling day draws near, we want all parties to focus on the housing, infrastructure and construction challenges we face – whilst Brexit will no doubt be top of the next Government's in-tray, it must not lose sight of the built environment."
Tags