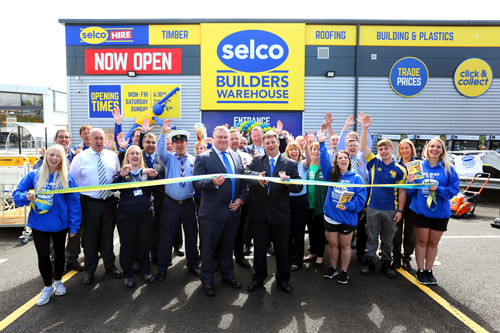 Selco Builders Warehouse says it has continued its impressive year of expansion by opening another branch in Poole, Dorset.
The latest opening takes the number of branch openings in 2017 to eight, with the promise of more to come in the shape of Basildon and Hemel Hempstead.
Chris Cunliffe, Selco chief executive, said: "This is our 55th branch in the UK and we are delighted to have established a presence in Poole. It's the first time we have ventured into Dorset and, while we will always continue to strengthen the current areas in which we operate, there is a special buzz with opening in a completely new location. Our philosophy is to bring Selco's unique offering to as many tradespeople as possible around the UK. We believe we are the one-stop-shop for the trade and hopefully people in Poole will agree."
The new branch features the full Selco offering, including Selco Hire and a comprehensive kitchen design service. In addition, Selco offers numerous online services including Click and Collect within 30 minutes, a next day courier service with over 6,500 products available and the opportunity for tradesmen to create their project lists online and through an app for them to be prepared in branch.
Chris added: "We are a genuine multi-channel builders merchant which allows our customers – who we always put first the chance to get their building materials in the most convenient way possible to them."
The new branches have also seen Selco continue its support to the local community by giving £3,000 to local charities in each area. Selco branches supply everything needed to build a house or carry out any refurb job including insulation, roofing, doors, windows, heating, plumbing supplies, lighting, electrical products, kitchens, bathrooms and timber. Branches also offer an in-branch café, trade services, direct-to-site delivery options and van size parking spaces, all designed to make it easier for tradespeople to get back onto the job as soon as possible.
Tags