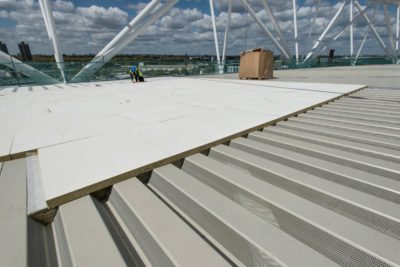 ROCKWOOL insulation has been installed on the Queen Elizabeth Olympic Park stadium as part of the refurbishment project to update the venue to be ready for West Ham United to take ownership.
The Queen Elizabeth Olympic Park main stadium, the centrepiece for many memorable moments of the London 2012 Olympic Games, is looking forward to a new future as the permanent home of Premier League football club, West Ham United.
West Ham's 99-year tenancy, running from 2016, was granted on the proviso that the Stadium was modified to suit its new tenant's needs. This included extending and upgrading the roof system to cover increased seating capacity.
The primary purpose of the new roof is to provide all-weather shelter over a new area of retractable seating, which is installed and removed over the running track in order to meet different capacity and functional requirements.
Acoustic performance has played a crucial role in the design of the new roof. Building envelope contractor Lakesmere was tasked with ensuring that the new roof counteracted the risk of noise break out to the surrounding areas from the stadium whilst enhancing the clarity and intelligibility of PA systems. Couple these demands with delivering an outstanding spectator experience the roof had to retain and reflect crowd noise within the Stadium.
Lakesmere specified and installed an acoustically insulated membrane roof, featuring ROCKWOOL HARDROCK Multi-Fix (DD) and ROCKWOOL Acoustic Infills.
As a flat roof board solution, which carries acoustic and fire resistance properties, ROCKWOOL says its HARDROCK Multi-Fix (DD) was the go to product for this project.
It can be securely installed within mechanically fixed systems with just a single fixing. Its acoustic performance allows it to manage airborne sound levels and control sound reverberation without the need for any additional layers, saving time and costs.
Prior to its installation and supply, Lakesmere carried out specific acoustic testing at the SRL to ensure the product met all specific acoustic requirements and used approximately 27,000m² of 50mm HARDROCK Multi-Fix (DD) plus 96,000lm of ROCKWOOL Acoustic Infills on the project.
Designed and tested for use within ROCKWOOL HARDROCK roof systems, these trapezoidal shaped infills provided a combination of optimised density, fibre direction and excellent fit to satisfy the required levels of sound absorption.
Tags