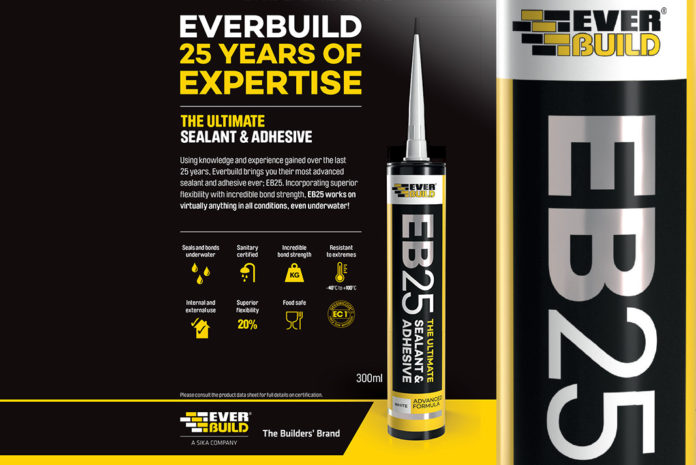 Toolstation has announced a calendar of Everbuild Roadshows to be held at a number of its UK branches during December.
With the launch of EB25, the ultimate sealant and adhesive, Everbuild will be visiting Toolstation branches to demonstrate its products to trade customers as part of its EB25 Roadshow.
EB25 can be used inside and outdoors, on virtually any material and in all winds and weathers – it can even be used underwater! In addition to those great benefits, EB25 is certified for use in sanitary and food preparation areas. The product is also environmentally friendly because it is carbon neutral and low waste and comes with the EC1Plus badge for very low emissions.
During the demo days, trade customers will get the opportunity to talk to experts from Everbuild as well as see demonstrations on how the product can work for them. Events are scheduled for the following dates, locations and times:
December 11, Toolstation St Helens, WA9 5JE, and Toolstation Reading Tilehurst, RG30 6AZ
December 12, Toolstation Bracknell, RG12 1YQ, and Toolstation Crewe, CW1 6YY
December 13, Toolstation Hanworth, TW13 6DB, and Toolstation Bury, M26 2QJ
December 16, Toolstation Croydon, CR0 3JP
December 17, Toolstation Beckenham, BR3 4BY
December 18, Toolstation Brixton, SW2 5DZ
December 19, Toolstation Barking, IG11 8BB
December 20, Toolstation Romford, RM3 8UR.
John Meaden, marketing director at Toolstation, said the roadshows represent a great opportunity for trade customers to get hands on with new and innovative products that have been added to their range of over 20,000 products.
He said: "Everbuild EB25 is just one of over 3,000 new products we've recently added to our range of trade quality products that come at low prices. We're delighted to be hosting these demo days in our branches, which give customers the chance to speak to the experts and see the product in action. These are the first of many we'll be hosting with different suppliers over the coming months, so keep an eye on www.toolstation.com for more announcements soon."