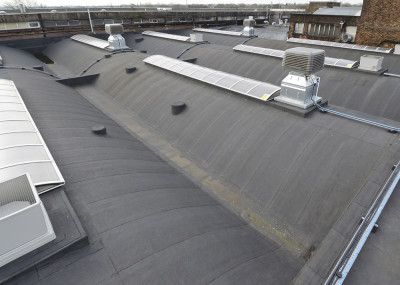 Alumasc's Euroroof waterproofing system has been installed on the 3,200m² roof at Hovis' bread-baking factory in the heart of Bradford, protecting the building against water ingress and helping to maintain the viability of bread production at the site in Gain Lane, Bradford.
The factory's previous roof waterproofing system had become severely compromised over time and needed replacing after multiple patchwork repairs to extend its serviceable life.
Alumasc and its Leeds-based contractor Mitie Roofing were chosen to design, supply and install a complete new roof waterproofing system without impacting the working of this busy food-production facility.
The first task was to take off the old mineral-surfaced roof waterproofing system and prepare the existing roof deck. Mitie Roofing then laid a Euroroof vapour barrier to provide immediate protection for this fully operational factory, and replaced the original skylights with Naturalight Barrel Vault rooflights, so that production could be maintained without interruption.
Next, a fully engineered Alumasc PIR thermal insulation scheme was laid, before the Euroroof Rapid waterproofing system was torch-applied.
Hovis group engineering operations manager Graham Thomas commented: "Thanks to Alumasc and Mitie Roofing, we now have a high-quality roof waterproofing system protecting our iconic bread-baking factory in the heart of Bradford, where we produce our much-loved Hovis bread products."
Following the successful installation of this Alumasc waterproofing system, it is now being rolled out at other Hovis buildings including the company's main office block.