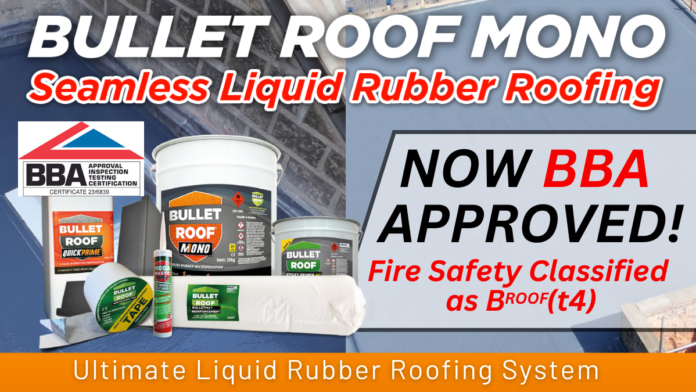 With liquid roof coatings continuing to grow in popularity as permanent and long-lasting solutions to flat roof waterproofing – especially where detailing is difficult or when there is a preference to leave the old roof covering in situ – Bullet Roof Mono by Principal Building Products provides a single pack long-lasting and flexible solution for roofing that is commonly known as liquid rubber, with the added benefit of not having to blend, thicken or add catalyst and has recently attained BBA Approval.
Mono was developed ready to use straight out of the tin offering the perfect product to deal with virtually any waterproofing situation and can be applied to new roofs including metal, concrete, timber or OSB, asphalt and over existing roofing felt. A range of primers are available including 'Quick Prime' which can be overcoated in as little as ten minutes from application.
The product is easy to apply by brush, roller or airless spray and is moisture tolerant during application – no catalyst is required, and it will coat vertical surfaces with ease, straight from the tin! It is also suitable for gutters and balconies with pedestrian access and is offered in dark grey, but other colours can be produced on request.
Bullet Roof Mono is fire safety classified as BROOF(t4) to offer reassurance on application under Building Regulations and combined with BBA approval will give a service life of at least 30 years.
http://www.pbpltd.co.uk/bullet-roof-liquid-rubber-roofing.html