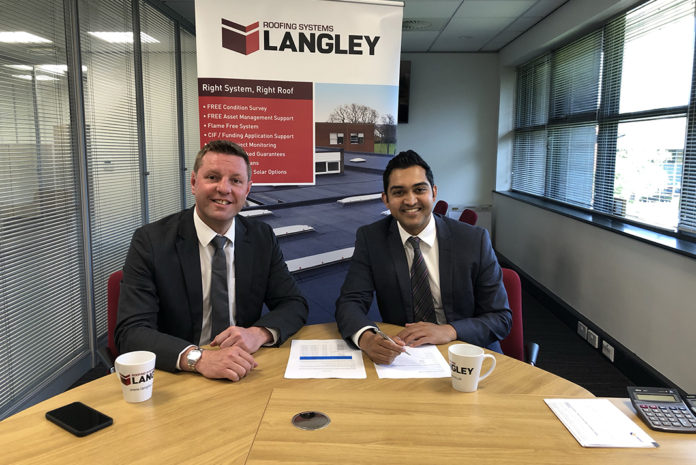 As the exclusive flat roofing supplier with CITB Approved Training Organisation (ATO) status, Langley Waterproofing has been announced as the only flat roofing systems provider for the new Waterproof Membrane Installer course. 
Based at the Advance Technical Engineering and Construction Centre (TECC) in Leyton – which has excellent transport links to Central London – the course will be delivered by the Langley training team. Advance TECC is a unique partnership between Dudley College of Technology, London Borough of Waltham Forest (LBWF), Simian and NOCN Group.
Across the 18-24 months to complete the course, apprentices will be trained in interpreting drawings, measuring and calculating the required amount of materials for roofing work, how to install vapour control layers, maintain flat or pitched roofs, and more.
Mark Dunn, head of training at Langley, said: "With the skills gap ever increasing as more workers retire and less young people join the construction industry, it's crucial that comprehensive and accessible training is available to installers of all ages.
"Due to our extensive background in providing training, the Waterproof Membrane Installer course was an excellent fit for Langley to deliver.  
"This course, which covers Reinforced Bituminous Membrane (RBM), liquid and single ply roofing, and will be assessed by an independent assessor, which allows the trainee to build up their portfolio, as evidence is collected through video, photographs, professional discussions and method statements."
The Trailblazer Roofing Apprenticeship is a government-backed initiative, to support further training within the construction industry. For non-apprenticeship levy payers, the apprentices will have 95% of their course funded. The course is also supported by two attendance grants and an achievement grant for those companies that are CITB registered.
Neel Bidessie, centre director at Advance TECC, said: "It is an accessible solution to ensuring new workers in the industry are able to develop their skills, whilst existing workers of any age are able to enhance their service offerings.
"We are delighted to be working in partnership with Langley to deliver this apprentice standard designed by employers for employers. This will impact positively to meet the needs of the construction industry and to find a solution to the acute skills shortage. We look forward to welcoming the apprentices to the Centre very soon."
For more information on the Trailblazer Roofing Apprenticeship and other funded courses,  please contact Mark Dunn on training@langley.co.uk or visit the Langley Waterproofing Systems website on https://www.langley.co.uk/training