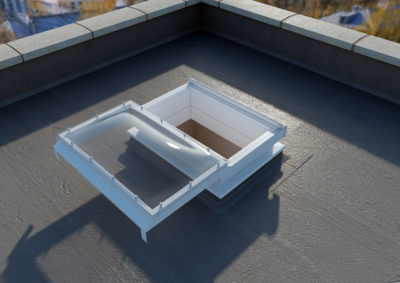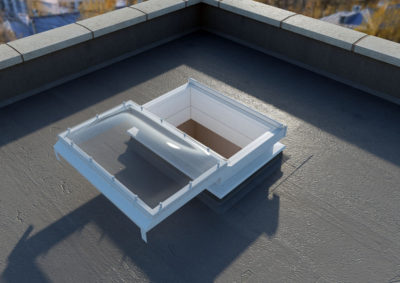 Combining the benefits of a skylight with the performance and certification (CE marked) of a natural smoke & heat and exhaust ventilator, the new SKY-1M from Bilco has been introduced for situations where a smoke vent is required, but the project also calls for allowing natural light into a stairwell.
With an internal dimension of 1000mm x 1500mm, the SKY-1M is a fully-tested CE marked product giving a 1m² clear vent area. Manufactured with a white PPC finish for all PVC and metal profiles, it has a sliding cover which opens to the fire open position within 60 seconds and comprises a double layer thermoformed polycarbonate dome (tested for impact resistance to EN 1873 Class SB1200) assembled on a fully welded PVC frame in which a double layer security glass (classified 2B02 according to EN 12600:2004) has been inserted. The cover also features an extruded EPDM rubber gasket to ensure a continuous seal when compressed in the front and in the back of the vent.
The curb is 250mm in height and is manufactured in a double layer (internal and external) polyester resin reinforced with fibreglass and is also supplied with a 150mm flange with pre-drilled 9mm holes for easy installation to the roof deck/upstand.
In terms of performance, the SKY-1M has a U-value of 1.02 W/m²K and is fully weathertight.
If it is being used as a smoke vent, the product can use a fixed vertical ladder to provide occasional access to the roof area for maintenance etc. For use as a powered access hatch only, the product is available as SKY-ACCESS which is capable of being used with a variety of ladder access including companionway or retractable ladders.