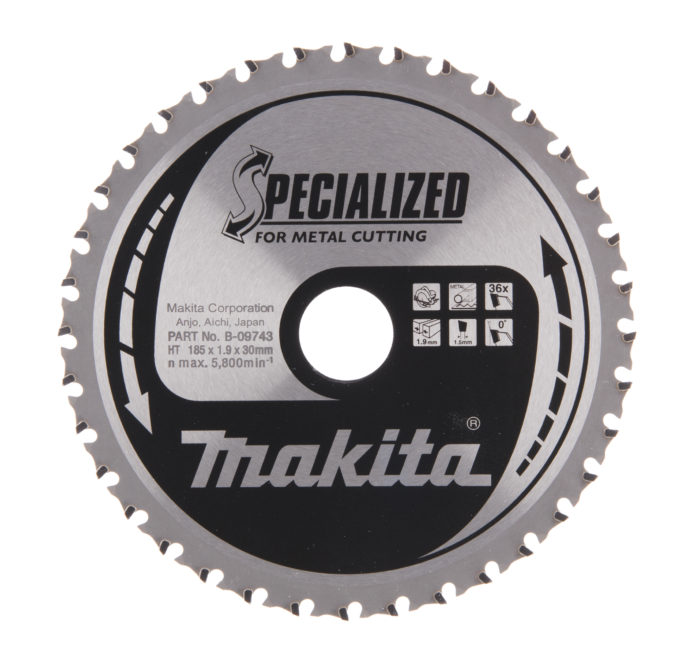 Building on the Efficut range, Makita has launched two new Efficut Metal cutting saw blades; the Efficut Metal 136mm or 150mm for general purpose metal cutting, and the Efficut Metal 136mm or 150mm for stainless steel and thin metal cutting.
The Efficut Metal saw blades are specifically designed for greater efficiency when cutting metal with a cordless circular saw. Affording improved cutting speeds, they are 1.6 times faster than their standard blades for metal, and 1.7 times than their standard blade for stainless steel, enabling operators to achieve higher levels of operational efficiency.
The new range of blades has been manufactured to a high standard to ensure they offer the best performance for operators. Incorporating 'chip breaker style' saw tips, the special design of the blade tip provides excellent chip ejection. The tips, made of cermet, are strong enough to handle the most demanding of jobs, remaining stable when cutting, even when impacted, and therefore, reducing the risk of breakage.
Furthermore, thanks to the tip design, the blades provide excellent and reliable straight cutting. The tips have been set to a specialised varied pitch and arranged in the optimum order, so that the load on the blade tips can be distributed evenly and efficiently, whilst keeping the saw blade stable when under pressure.
The design provides the ideal balance between durability and the thin 1.1mm Kerf produces less resistance during operation, and therefore is less draining on the battery – up 1.6 times more cuts when compared to equivalent standard saw blades. Operators can work for longer with more cuts per charge, when paired with Makita 18V LXT metal cutting saws.