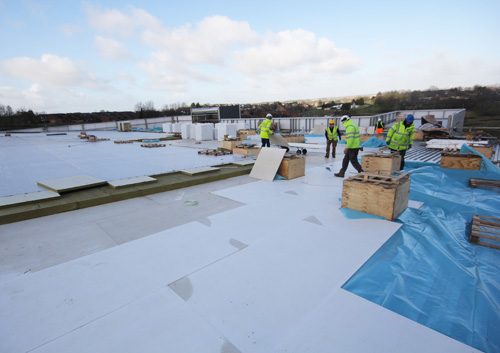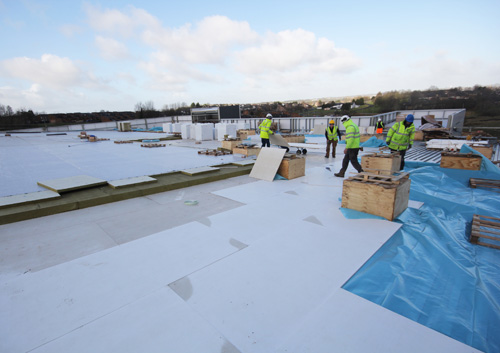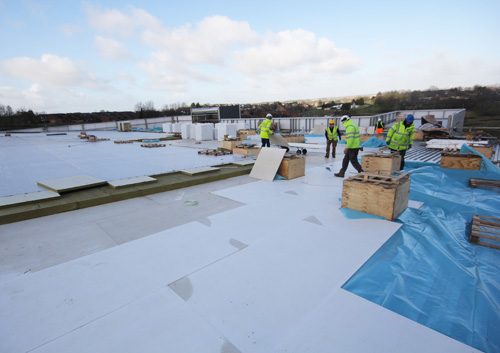 The Gateway on the outskirts of Ballymena is said to be one of the most ambitious private developments ever undertaken in Northern Ireland. The complex roof construction is making use of Magply boards as part of a high-performance specification.
The recently completed 3,600m2 roof over the auditorium and sports hall uses perforated metal decking to span the main steelwork, with an infill of Rockwool insulation. This is then covered by a vapour check membrane and a layer of 12mm thick Magply boards, specified to carry 150mm of Hardrock DD underlay and a further 60mm of hardrock multifix insulation which is weathered by a Sarnafil single ply roofing membrane.
All the materials were supplied by Pawling's Insulation & Supplies of Belfast and installed by McCavery Roofing, creating a roof construction which is said to offer excellent thermal, acoustic and fire performance, as well as the ability to cope with snow and wind loadings as well as other climatic conditions.
Site manager for McCavery Roofing, Stevie Jones, said: "This is a large installation of some 3,600 square metres, with the auditorium and the higher level roof over the sports complex, both featuring the use of the Magply boards. They are being mechanically fixed to the decking prior to installing the two layers of Rockwool and then the Sarnafil membrane. Work has gone well so far and we expect to complete the roof installation to schedule by the end of March."
Magply features an MgO formulation to offer a fire-safe and environmentally-friendly alternative to conventional plywood or OSB products. Additionally, the production process keeps the chloride content to just 0.01%, enhancing both stability and long-term durability. Magply carries internationally recognised accreditations confirming the boards' ability to deliver 90 minutes' integrity and insulation under test conditions.