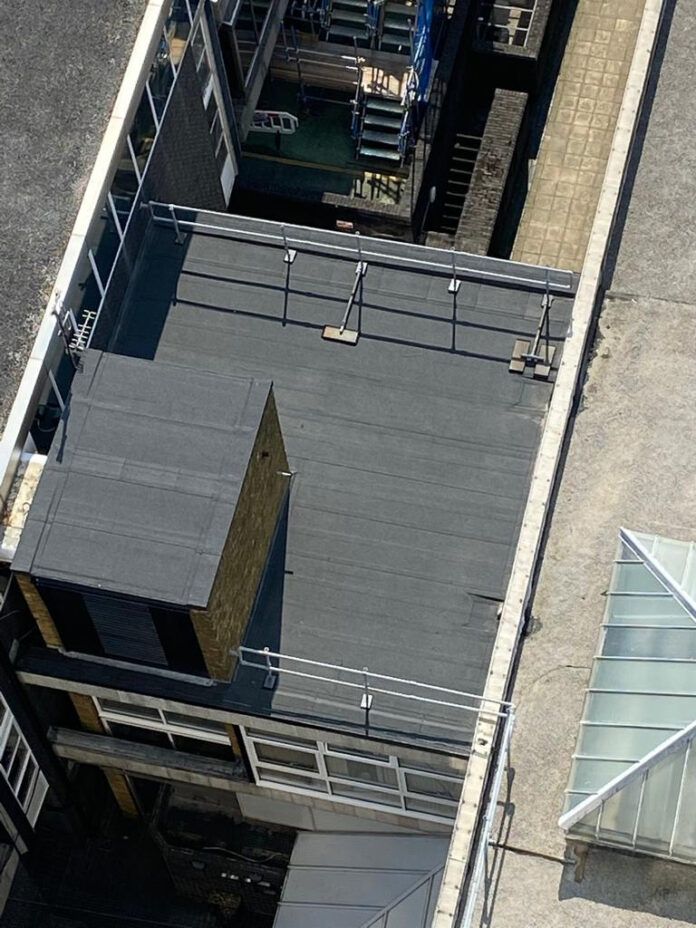 A Mapei Polyglass waterproofing roof system has been used to complete an extensive renovation at Enfield Council Civic Centre.
The project, completed by Alex Bennett Precision Roofing, spanned the link roof at the Centre and provided ungraded insulation, along with a host of high-performance features that were much-needed to improve the safety and efficiency of the building.
Constructed in 1961, in postmodern style, Enfield Civic Centre has expanded over the years and was refurbished in 2017 to provide an open plan working environment and incorporate new timber grill ceilings.
During the recent roof refurbishment, limestone was carefully removed from the asphalt surface and the existing waterproofing system was cleaned and prepared.  Mapei's fast-drying Bituminous primer, Polyprimer HP45 Professional, was then applied to the surface to eliminate dusting and the roof was treated with germicidal foam.
The new roof system included three Mapei Polyglass membranes which provided strength, stability, water resistance, cold flexibility and puncture resistance. They included: Polyvap SA P-AL prefabricated self-adhesive bitumen membrane, featuring ADESO® technology; Bitulight P – prefabricated elastomeric-plastomeric membrane featuring REOXTHENE® Ultralight Technology compound and Polyshield prefabricated waterproof plastomeric membrane.  The system was installed with Adepur insulation adhesive.
For more information about Mapei products and applications, please contact: info@mapei.co.uk  or visit the website.