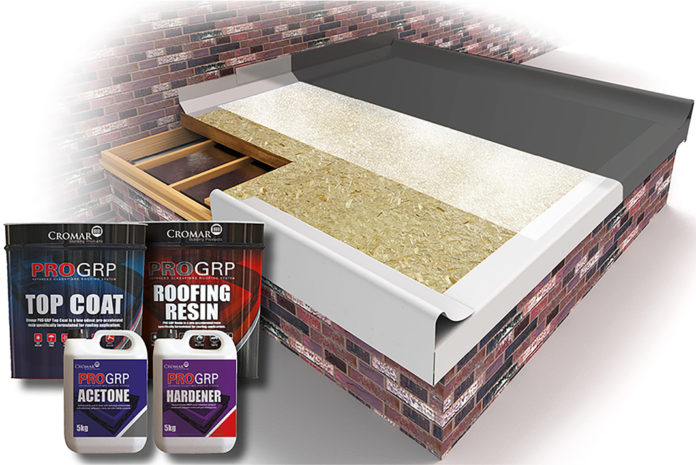 Cromar says its PRO GRP system is 'exceptionally popular' as a flat roofing solution – it is said to provide a modern look and can often be cheaper than a pitched roof as less materials are needed. There are many different coverings that can be used on flat roofs, for example torch-on felt, however more reportedly choose the Cromar PRO GRP system due to the final professional finish.
Cromar PRO GRP is described as 'the professional choice for glass fibre flat roofing'. Cold-applied and said to have high impact and fire-resistance, it reportedly provides a seamless, highly durable, flexible and virtually maintenance-free finish for almost any flat roof surface. It is also described as heat-resistant, storm-proof and frost-proof. Easy to form around complex details, Cromar says it is ideal for vertical work and will withstand heavy foot traffic, even as part of a non-slip walkway.
The full PRO GRP systems includes resin, top coat, hardener, acetone, trims, fillets and joints, trim adhesive, matting, brushes and rollers etc. All components and more are available from Cromar, who aim to provide a one-stop-shop for all flat and pitched roofing products.
Cromar also offers a 25-year performance warranty with PRO GRP, when applied by a fully trained and approved contractor.
For more details on PRO GRP and any other product within the Cromar range visit www.cromar.uk.com