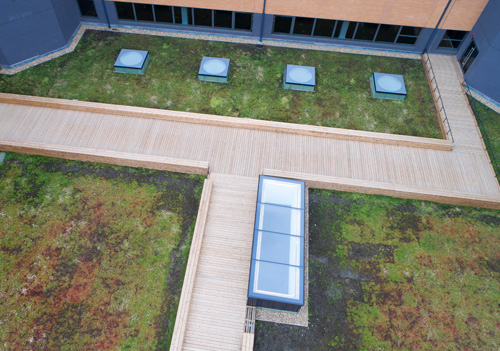 The Maylands Building at Diamond Point in Hemel Hempstead is part of a massive regeneration project carried out by main contractor, Galliford Try. Working closely alongside Galliford Try and Martin Edwards Architects, JET Cox designed and installed a bespoke flat glass rooflight system to the lower section of the new roof terrace. It comprised a total of five rooflights, both circular and rectangular, which will provide a source of natural daylight into the main reception space below and complement the building's environmental and healthy working ethos.
The installation posed a number of technical challenges including multiple glass specification investigations at design stage and the tricky navigation of the rooflights over part of the main roof that had weight restrictions.
Jet Cox sales and specification manager, Steven Rumble, commented: "The Maylands Building project was a success for a number of reasons. All parties involved formed a great working relationship and despite the technical challenges, the outstanding teamwork enabled us to deliver the project on time and within budget."
Jet Cox says it has extensive experience in the production of bespoke rooflight systems that fit sympathetically into any building. Custom bespoke products are available in glass, solid polycarbonate or multiwall polycarbonate and can cater for all applications from residential to retail, private buildings to public buildings.