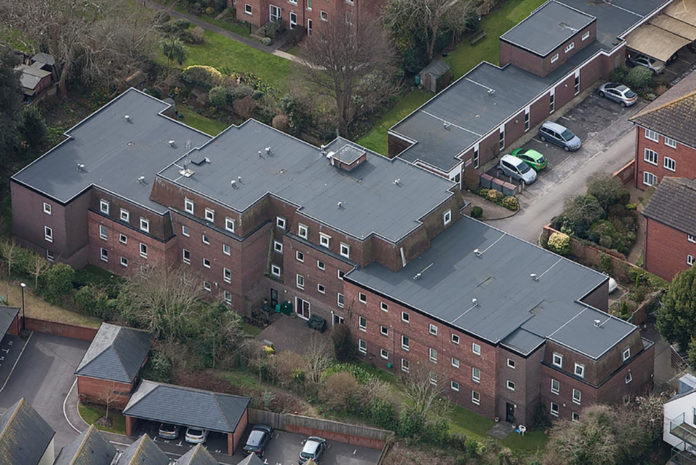 Langley Waterproofing Systems has had its TA-20 roofing system installed on Lacy House – retirement housing located in Chichester, West Sussex. A new 1,600m2 roof was installed to fix the water ingress issues that the residential property had been experiencing.
Due to failures in its existing roofing system, Lacy House had been suffering with significant water ingress and ponding issues, resulting in leaks to the flats of the retired residents below. Langley undertook a comprehensive condition survey incorporating a core sample analysis, which is the process of assessing sections of the roofing system to evaluate damage, determine the extent of any problems and evaluate the best course of action.
After investigation, Langley technical design managers found that the original roofing system had been constructed with inadequate falls towards the roof rainwater outlets. This resulted in the outlets being too high, stopping the water from sufficiently draining away. As a result, ponding, water ingress and subsequent leaks into the flats below had occurred.
The severity of the damage meant that the roof needed to be completely stripped and replaced. Langley Approved Contractor, Richard Soan Roofing, installed the specified Langley TA-20 flat roofing system – a high-performance SBS elastomeric membrane insulated warm roof system. The new roof consisted of a Paradiene SVV vapour control layer, tapered Parafoam roof insulation and two-layers of waterproofing (an underlay of Adepar JS VV and a capsheet of Elastoflex mineral).
During the refurbishment work, the insulation around the outlets was also lowered and the rainwater outlets were replaced, resolving the previous drainage issues.
As Lacy House remained occupied during the refurbishment work, it was vital that disruption to the residents was kept to a minimum – this need was increased further by a majority of the residents being of retirement age. This was challenging as, in order to replace the roof, the team had to strip the original system, exposing the properties. No temporary coverings were used during installation, and the contractor competently and sympathetically removed the old roofing system and efficiently replaced it in sections to minimise the disruption of the project.
Dean Wincott, managing director at Langley, said: "Lacy House had been experiencing issues with water ingress for some time. Ponding issues and the fact that the existing insulation was completely saturated meant the roof had to be stripped and replaced completely. Although a complex project, Langley and Approved Contractor Richard Soan Roofing collaborated throughout, to ensure that the new roof system would prevent any further damage to the building and disruption to residents."