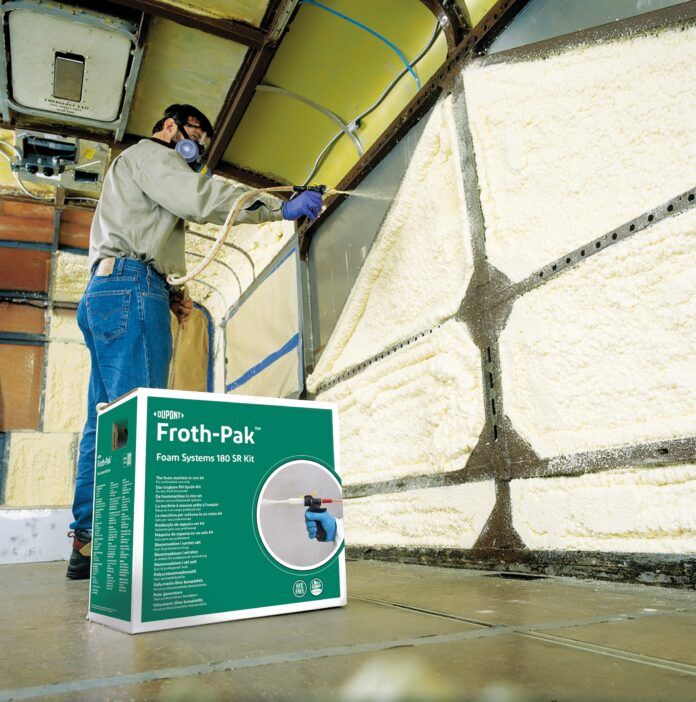 Now available from Sherwin-Williams is the re-formulated DuPont™ Froth-Pak™. The updated two-component spray foam insulation kit provides users with a significantly greener alternative, which does not compromise on performance.
Suitable for a range of applications and sectors, the popular DuPontÔ Froth-PakÔ kits allow professional contractors to fill larger cavities, penetrations and cracks in rim joists, roof wall junctures and around pipes. It can also provide insulation around window and door frames, in stud wall cavities and inside commercial vehicles. The new two-part formulation of the polyurethane product is now free from ozone-depleting chemicals or HFCs (hydrofluorocarbons). As such, it benefits from a global warming potential (GWP) reduction of more than 99%.
Although the chemistry has been altered, the performance of the new DuPontÔ Froth-Pak™ is exactly the same, allowing for a fast and easy application of high-quality PU-foam insulation. Once fully cured, DuPontÔ Froth-Pak™ is thermally stable in a temperature range of -150°C to 100°C.
The product comes in two separate portable and disposable pressurised cylinders – one polyol and one isocyanate – which then mix on application and require no external power source.