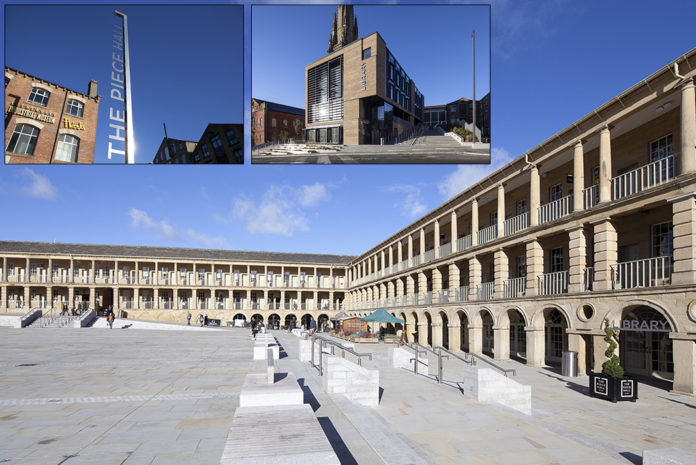 The Kingspan Optim-R Flooring System and Kingspan Thermaroof TR27 LPC/FM have been installed in floor and roof constructions as part of the transformation of The Piece Hall in Halifax.
The Grade I Listed building first opened in 1779 for the trade in 'pieces' of hand-loomed cloth. Following a multi–million-pound transformation project, the building has been reinvented as an international cultural destination.
The council contracted the construction works to Graham Construction, and LDN Architects, with their expertise in conserving historic buildings, they reimagined The Piece Hall into the 21st century destination that it is today.
Due to its age, the three-storey building was entirely uninsulated. Its unusual design, set out around a square, also means it has a significant external envelope relative to its floor size. To improve the energy performance of the building, it was decided that insulation would be integrated within the building envelope wherever possible.
One of the most challenging areas to achieve this was in the basement level. Headroom within this space, which was being converted into a management suite, was already limited. The project team were, therefore, keen to identify a floor insulation solution which could achieve the desired thermal performance with a minimal reduction in floor to ceiling height. This led to the specification of the Kingspan Optim-R Flooring System.
The system comprises Optim-R vacuum insulation panels, with an exceptionally low thermal conductivity of just 0.007 W/m.K, and Optim-R flex infill strips of the same thickness, which can be cut to fill any gaps within the insulation layer. The low thermal conductivity of the Optim-R VIPs allowed the desired thermal performance to be met with a system thickness of just 43 mm (inclusive of a 3mm layer of rubber crumb).
Externally, heritage roofing experts — Ploughcroft — oversaw the sensitive restoration of the building's roof. This required over 10,000 tiles to be carefully checked and, where necessary, repaired. As part of this work, Kingspan Thermaroof TR27 LPC/FM was applied to certain areas of the original building roof.
The roof insulation product has been LPCB approved to LPS 1181: Part 1 and are FM approved for Class 1 steel deck roof assemblies. The Green Guide A rated boards, produced at Kingspan Insulation's Herefordshire and north Yorkshire manufacturing facilities are certified to the demanding BES 6001 responsible sourcing standard.