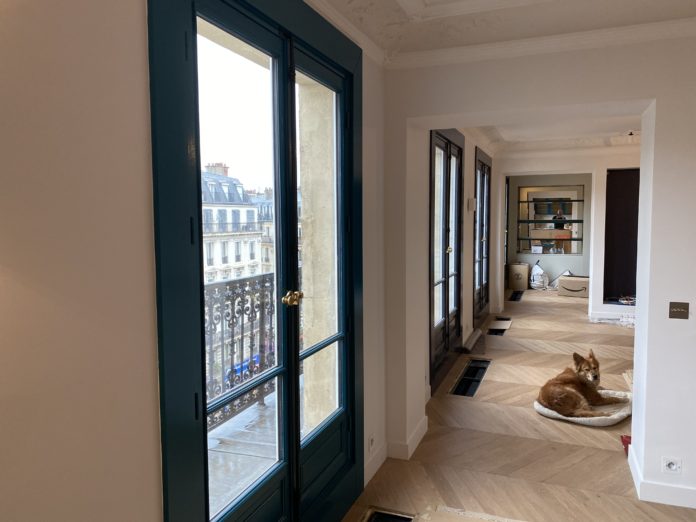 A classic Parisian apartment is benefitting from the thermal effectiveness of the introduction of the ultra-thin Spacetherm Wall Liner (WL) insulation from A.Proctor Group.
Located in the 11th arrondissement in the heart of Paris on Boulevard Voltaire and overlooking the Place de la Republique, the two-bedroom, 135m2 apartment was built in the Hausmann style.
Property owner Keirnan Murphy has made a significant investment in the renovation of the apartment to improve its overall comfort and energy efficiency, and to reduce its heating costs.
Keirnan explained: "The solid stone walls, whilst adding to the building's charm, result in heating inefficiencies and higher heating costs. During summer, the stone walls warm during the day, retaining and radiating heat throughout the night. In winter, the solid walls cool down, leading to a huge increase in heating costs.
"We undertook lots of research on solutions for green and energy-efficient renovations, where we considered products available within France, as well as those available internationally. The Spacetherm WL aerogel insulation from A. Proctor Group was a perfect choice for the apartment. At just 13mm thickness, the Spacetherm WL fits inside the lip of our cornices, which average about 20mm. Typically, the walls of these older properties are not completely flat, and so the option of an ultra-thin insulation was critical. Most alternatives were thicker and would not have worked.
"We are very pleased with the results and we noticed that when leaning up against the Spacetherm WL, you can feel your back warm against the insulation. The team at A. Proctor Group were extremely helpful in addressing all the questions from the architect and ourselves. They also provided comprehensive support and guidance to our builder on the installation."
Spacetherm WL is a high-performance laminate that is specifically designed to be fixed to the internal surfaces of existing solid walls without the need for mechanical fixings.
It consists of Spacetherm aerogel insulation blanket bonded to 3mm Magnesium Board (MgO), for use in applications where improved thermal performance is required with limited space.
Typically, a solid wall will have a U-value of around 2.1 W/m2K. Following the application of Spacetherm WL, this can be reduced to around 0.8 W/m2K, dependent on the wall structure.