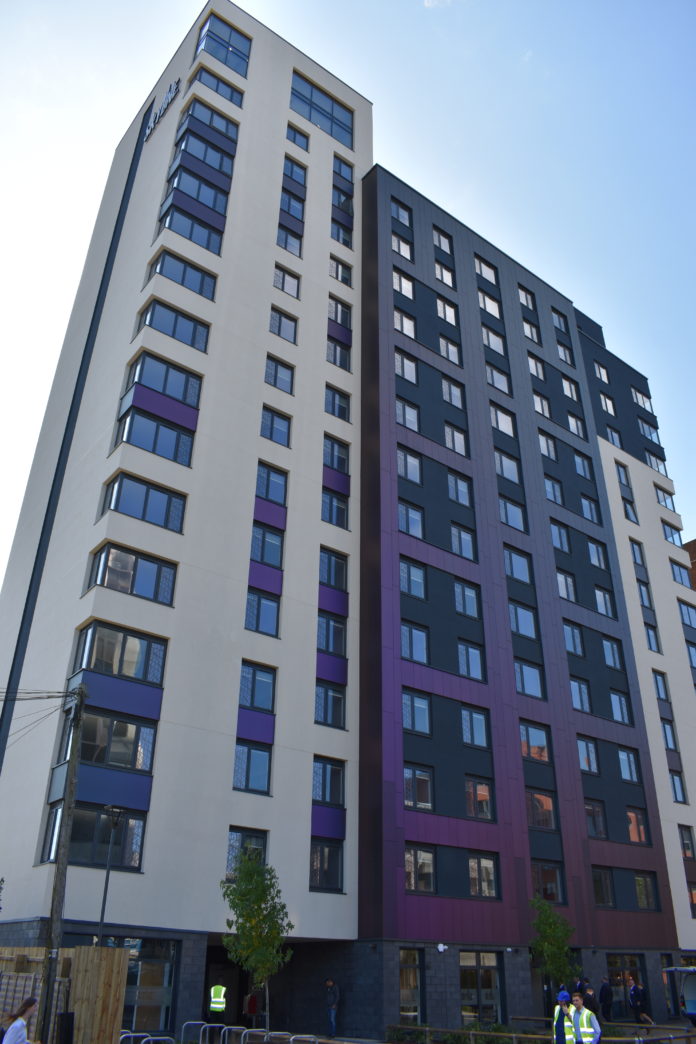 ROCKWOOL and Rockpanel are the winning façade combination behind an attractive, new student housing landmark for developer, Gilltown, on behalf of Bournemouth University.
Designed to achieve BREEAM 'Very Good' standard for energy performance, Skyline is one of the tallest developments in the area and draws on the powerful advantages of stone wool as a versatile, non-combustible insulation and cladding material, capable of providing excellent aesthetic, fire safety and thermal benefits.
Skyline is purpose-built student accommodation, comprising 430 beds in a mixture of cluster flats and studios.
Aesthetically, Intersect sought to create a bold, striking finish for Skyline, reflecting the youth, energy and vibrancy of its occupants.
From a technical perspective, and with Skyline exceeding 18m in height, fire safety was, of course, a key priority. The insulation and cladding also had an important role to play in helping Skyline meet the challenging energy performance credentials needed to achieve the BREEAM 'Very Good' standard.
Intersect specified non-combustible Chameleon A2 boards from Rockpanel for the exterior cladding and RAINSCREEN DUO SLAB from ROCKWOOL for the ventilated façade insulation.
The Rockpanel Chameleon boards feature a special crystal effect layer, which change colour within a specified purple, green and blue colour range, depending on natural daylight conditions and the viewing angle as people move around the building. This eye-catching, ever-changing effect delivers on Intersect's design objectives, bringing the entire building to life. The surface of the Chameleon boards constantly seems to change colour in striking contrast with the mushroom colour of the unclad concrete elevations. Rockpanel has also supplied the Chameleon boards in a special Matt finish to help meet Intersect's aesthetic façade specification.
Rockpanel Chameleon A2 boards, in combination with RAINSCREEN DUO SLAB from ROCKWOOL, fully meets the requirements for European fire class A2-s1,d0, so perform well from a fire safety perspective.
Manufactured as a dual density insulation board, RAINSCREEN DUO SLAB offers a robust outer surface and a resilient inner face designed specifically for application to this type of high-rise development.
RAINSCREEN DUO SLAB requires fewer fixings than other commonly used insulation types, which minimises the risk of thermal bridging and ensures contractors a quick and easy installation. At Skyline, a thickness of 150mm was installed to achieve the specified thermal performance of 0.18 W/m2K. The product was tightly butt jointed so that adjacent boards effectively knit together, minimising heat loss that would arise from gaps between insulation boards.
Because RAINSCREEN DUO SLAB is manufactured from stone wool, it is also excellent at trapping sound waves and minimising vibration, making the insulation an excellent choice for external acoustic insulation. Furthermore, it has recently been awarded Quiet Mark approval, an independent award body that is associated with the UK Noise Abatement Society.
As a result, Skyline has achieved its targeted BREEAM 'Very Good' rating. The use of non-combustible insulation and cladding from ROCKWOOL and Rockpanel, classified in accordance with EN 13501-1, also helps the building meet its regulatory fire safety requirements
Photo credit: Intersect Architects and Gilltown