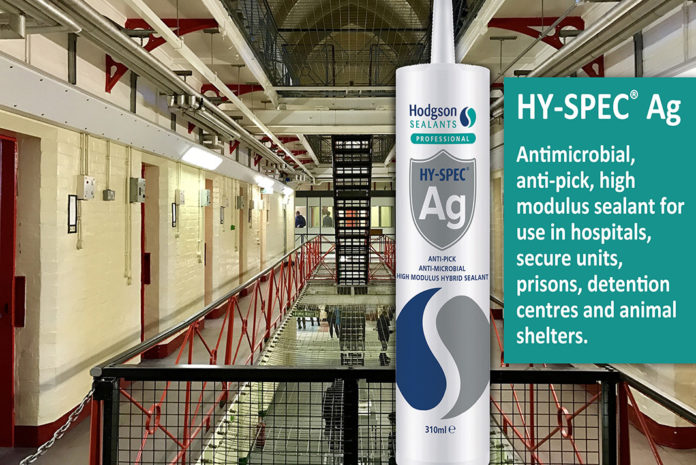 This latest development from the Beverley-based manufacturer is an antimicrobial, anti-pick, high modulus sealant aimed at the hospital, secure unit, prison, detention centre and animal centre markets for refurbishment and for new construction. This formulation also provides a 99.9% resistance to viruses and microbes and has been proven effective against a broad range of bacteria including MRSA, E. coli, Campylobacter, Staphylococcus aureus, Salmonella, Listeria, Legionella, Pseudomonas, Shigilla, H1N1 Virus and AsperGillus Niger.
HY-SPEC Ag provides a permanent elastic seal with high adhesive properties to a wide variety of substrates including wood, concrete, tiles, steel, aluminium, zinc, copper, brass, uPVC, stainless steel, glass and polyester. Once cured this formulation also offers enhanced anti-pick properties versus traditional sealants.
Gary Thomas, commercial director of Hodgson Sealants, commented: "The introduction of HY-SPEC Ag to our hybrid range of sealants brings with it a number of product USP's, including the fact that it offers anti-pick properties. Combined with the proven BioCote antimicrobial technology, it's a standout product for the sector and another result of our on-going investment in product research and development.
He continued: "It's also part of a wider range of hybrid sealants under the HY-SPEC brand that offer outstanding performance credentials in comparison to traditional sealants."