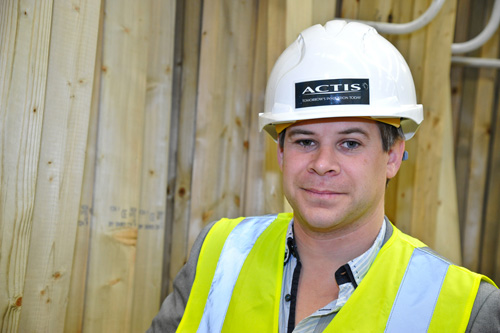 A report by the Federation of Master Builders (FMB), highlighting that the shortage of construction workers has hit its worst ever levels, is the latest sign that off-site housing volumes must be increased to help tackle the housing crisis according to insulation specialist, Actis.
Actis has been a long-term advocate of timber frame as a quicker method of construction which has no negative effect on quality.
In its quarterly report on the state of the industry, the FMB found that small and medium-sized companies in particular are struggling to recruit bricklayers and carpenters, and that demand for skilled plumbers, electricians and plasterers is also outstripping supply.
Mark Cooper, sales director of Actis UK and Ireland, said: "This latest report highlights yet again that the construction industry is desperately short of skilled workers to help build the hundreds of thousands of homes this country desperately needs. As well as needing to ensure we increase skills training for the longer term and find a way to ensure we don't lose our best tradespeople after Brexit, we must urgently embrace ways in which we can build those homes in a shorter time, thus necessitating fewer skilled man hours."
Homes created off-site can be built up to 30% more quickly than their brick and block counterparts, and costs can be reduced by as much as 25%.
Mark continued: "The bulk of the skilled element takes place off-site. Timber frame walls, floors and roofs, complete with electrical wiring, plumbing and insulation are built in factories at relative speed. Indeed, some insulation systems such as Actis Hybrid, which consists of insulation, vapour control layer and breather membrane, can be installed effectively with ease by someone who has had minimal training which can even be delivered via an online tutorial.
"As these three-in-one systems are quicker to install than traditional insulation – many builders report savings of 25-50% – this in turn also frees up more man hours.
"In last year's housing white paper, the government proposed an increase in this construction method, with firms encouraged to tap into the £3 billion Home Building Fund and the Accelerated Construction programmed to enable this to happen."