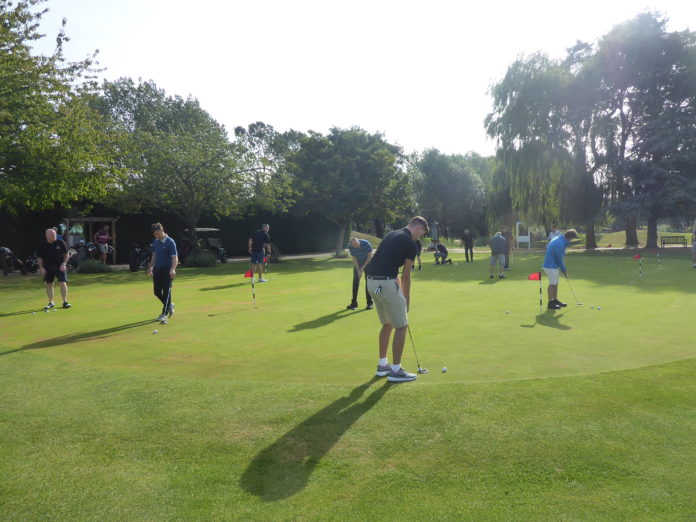 After successfully raising £2,341 from its 24-hour cycling challenge in July, AJW Distribution's managing director, Alan Woods, was determined to raise £10,000 for the company's chosen charity of the year, The Phoenix Ward at Broomfield Hospital, at its recent charity golf day.
The company is thankful to those who supported the event on the day and is proud to announce that it has hit its target.
AJW Distribution chose 'The Cambridgeshire Golf Club' in the village of Bar Hill as the venue for its golf day as the course is considered to be one of the best in Cambridge.
There was a total of 19 golf teams who took part – kick starting the day with a shotgun start, with the 19th team starting on the 'AJW' lettered putting competition.
To ensure that AJW Distribution reached its target, the company gave suppliers the opportunity to sponsor a hole, which it received huge support for from Sandtoft, Etex, BMI Redland, Kingspan, Millhouse Leasing, Flex-R, Filon, Rutters, CUPA PIZARRAS, Brett Martin, Ash & Lacy, Sahtas, Cambridge Garage Doors, ADS Construction, Seven Asset, Carlisle Construction Materials and JorisIde.
Alongside the suppliers mentioned above, the company received raffle and auction donations from a number of local suppliers – helping to raise over £4,500 from the auction and raffle alone.
The winners on the day were:
Best individual score – Callum Male – 46 points
Best team score – Steve Austwick Group – 94 points
Best putting – A. Grant Roofing – Overall score of 30
Longest driver– Luke Clements from D.M.D Installations
Nearest Pin – Simon from C&S Roofing.
Charlotte Woods, AJW Distribution's marketing director, said: "We are totally overwhelmed by the support we have received from our suppliers and customers about the golf day. We would like to thank every one of you for helping us to raise this amazing total and are so proud of the support we have received."
The event was inspired by eight-year-old Harrison Hart whose dad Shaun works at AJW Distribution's Witham depot. Harrison suffers from a rare form of life-threatening epilepsy and regularly attends The Phoenix Ward at Broomfield Hospital for treatment.
Harrison's mum, Debbie Hart, said: "I am so overwhelmed and amazed with everyone's generosity and kindness. This charity means the world to me because of how it helps Harrison and lots of other children to make their time in hospital more bearable. I would like to say a massive thank you to all the people that were involved in supporting this charity, and Alan, his family and all of the staff at AJW."
Charlotte Jefcoate, fundraising coordinator at Mid Essex Hospitals Charity, added: "We are so fortunate to have AJW Distribution fundraising for us. To have raised over £11,000 so far is amazing, and I'd like to thank everyone at AJW for organising such a brilliant golf day.''