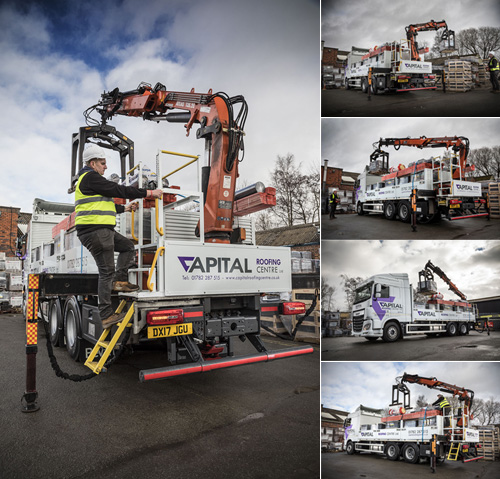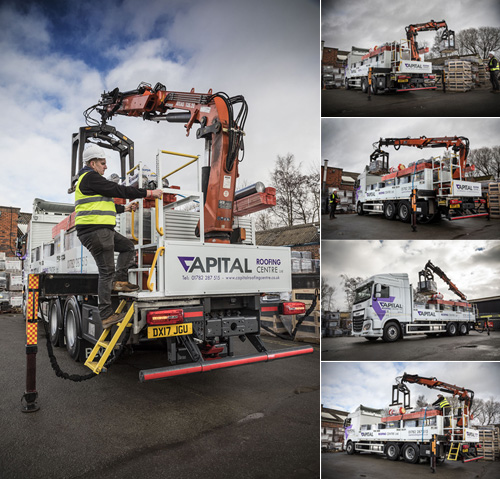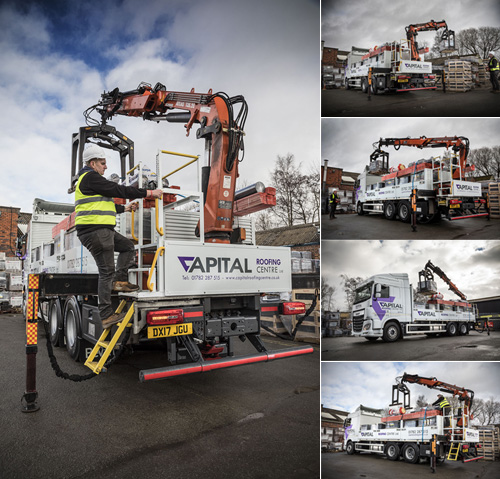 Capital Roofing Centre's new fleet features a bespoke body design built in double-quick time by Bevan Specialist Products.
The family-owned operator is based in Stoke-on-Trent and supplies a range of materials to professional roofers and DIY enthusiasts throughout Staffordshire, Cheshire and beyond.
Based on a 26-tonne DAF XF 510 chassis supplied by local dealer Imperial Commercials, the truck is equipped with a rear-mounted Atlas 135.2E crane which works with a brick and block grab.
Bevan's dropside body, meanwhile, features a gantry platform with retractable step ladder – a sensor sounds an alarm if this is not folded away correctly before the vehicle moves off.
Capital Roofing managing director, Wayne Johnson, came up with the idea for this unusual installation, which affords operatives quick and easy access to the vehicle bed without having to drop the sides. The bodybuilder then turned it into a reality.
In addition to the dropsides and bed, the front and rear bulkheads are fabricated from aluminium rather than the more conventionally-used steel, while extensive use has also been made of stainless steel fixtures and fittings.
Bevan also painted the vehicle before its graphics team applied the operator's livery. The truck now doubles as a highly-effective mobile advertisement for Capital Roofing Centre's business, when it's out and about six days a week making deliveries of everything from roof tiles and slates, to guttering and skylights.
Mr Johnson added: "Not only did Bevan complete the job quickly, but they also did so without compromising quality. Our new truck is clearly built to a very high standard and we couldn't be more pleased with it."