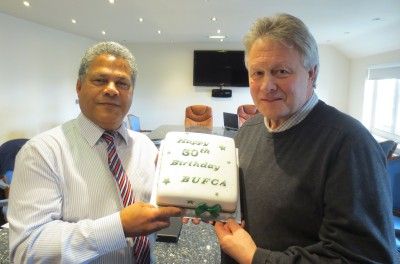 BUFCA members have celebrated the 30th anniversary of the Association at its Annual General Meeting held in Alfreton, Derbyshire, in March 2016.
The British Urethane Foam Contractors Association (BUFCA) was established to represent the installers of sprayed and injected polyurethane foam systems for the insulation and stabilisation of the building fabric and other applications.
Peter Bristow, BUFCA chairman and Keith West, representing BUFCA as vice-chairman and Kershaw Contracting Services, were on hand to cut the anniversary cake.
Mr Bristow commented: "As a small trade association, we are pleased to have reached this important milestone – now we can build on our solid foundations to further develop the polyurethane foam market across a range of sectors." 
BUFCA has a network of contractors skilled in the installation of sprayed or injected polyurethane foam and the Association says that when choosing a member, customers can be assured of the highest standards of quality and service.
Installers are required to abide by the Association's Code of Professional Practice that aims for good technical and professional conduct and promotes sound relationships between members and their customers. A survey is carried out before installation to check that the building fabric is sound, with any necessary rectification works carried out.
BUFCA installer members can apply for a 25-year insurance warranty for domestic injected polyurethane cavity wall insulation projects. This can cover ECO and Green Deal funded projects or privately financed work.
The warranty offers reassurance to customers and becomes effective if there is a fault with the installation or the product and the installer or product manufacturer has ceased to trade. Commercial jobs can also be considered, subject to prior approval by the insurers.