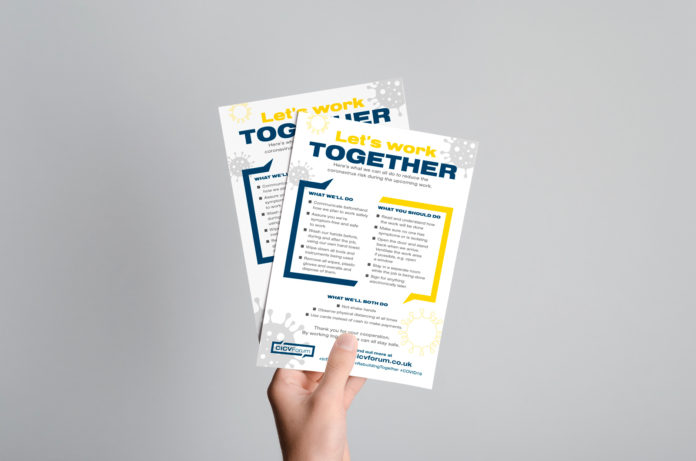 The Construction Industry Coronavirus (CICV) Forum is celebrating a double milestone this week – welcoming its 100th member and releasing its 50th piece of guidance.
The Forum's commercial sub-group has been joined by Bridget Lambert, strategic procurement manager at Renfrewshire Council, who is already contributing her expertise to help the industry continue its phased return.
At the same time, the collective has issued a new downloadable PDF checklist for contractors and clients, outlining the practical measures both should take to keep themselves safe during domestic work.
Designed to be emailed before work starts, and supported by two social media animations, the open source PDF joins the other work released by the CICV Forum that includes:
Clear and relevant employment and contractual guidance

Operating procedures during commercial and domestic work

Animation outlining correct measures during emergency work

Posters and infographics to help key workers safe during projects

In-depth safe operating guidelines during the return to work

Health and safety animation for workers during restart

Open source signage pack for sites, offices, and depots

Practical safety advice for apprentices returning to college

Four advice webinars hosted by leading industry experts

Employer advice about returning from furlough

Campaign urging workers to stay COVID-19 smart 24/7

A range of recommendation papers to help the sector

A consultation document to shape the future of the industry.
In addition, the CICV Forum is now planning a series of free online training seminars starting in September, offering in-depth advice to help businesses improve their contractual and commercial awareness on construction projects.
CICV Forum chair Alan Wilson, said: "To have reached these milestones in terms of both membership and expert guidance in under five months is nothing short of incredible.
"The breadth and depth of information issued by the Forum is testament to the collaboration and cooperation that exists among its members, and shows just how effective trade associations, commercial organisations and other bodies are when they work together."
Bridget's arrival means the CICV Forum now has 100 individual participants from a wide range of trade associations, private companies and professional services, with 25 full-time forum member bodies and 40 further organisations contributing to its eight sub-groups.
She said: "I am delighted to have joined the CICV Forum and I am looking forward to helping it continue its vital work as we continue to overcome uncertainty during the recovery phase of the pandemic.
"I have already been extremely impressed by the wealth of experience among my fellow members and have been particularly inspired by everyone's commitment to shaping the future of the industry for the better."
In the last two weeks alone, the CICV Forum has issued seven health and safety advice documents, updated its operating guidance and reminded construction workers to observe physical distancing in their social lives too.