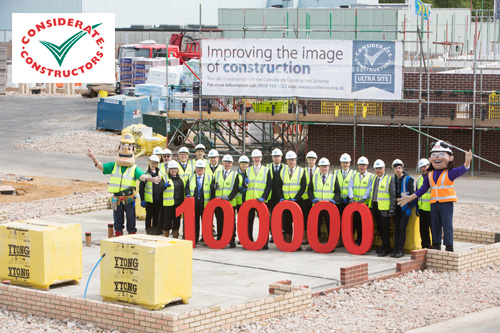 The Considerate Constructors Scheme, the national Scheme to improve the image of the construction industry, has reached a major milestone in UK construction history by registering its 100,000th site.
The Infrastructure and Project Authority's head of construction, Dr David Hancock, welcomed this achievement and the Scheme's role in helping to improve the image of the industry.
The site registration was made by contractor Mulalley, for the Chauncey Residential Development in Ware, Hertfordshire.
Mulalley is working with housing association Network Homes, a client partner of the Considerate Constructors Scheme, to deliver an £8.6m project of 18 semi-detached houses and 29 apartments, delivering much needed affordable homes in Ware.
Registering its first site in 1997, the Scheme says it has committed itself to helping to improve the image of the construction industry for the benefit of the community, workforce and environment.
Edward Hardy, Considerate Constructors Scheme chief executive, said: "We are delighted to celebrate the registration of the Scheme's 100,000th site with Mulalley, who have been registering sites for nearly 20 years and are a founding Scheme partner. This is a truly momentous milestone for the Considerate Constructors Scheme and the industry, and is made even more special with this being the 20th year of the Scheme.
"As a Scheme, we continue to grow and engage with an ever-increasing number of contractors, suppliers, companies, clients and other construction industry-related organisations to continue to promote the benefits to the industry in looking after our workforce, site neighbours and the environment.
"Whilst it is important that we celebrate this phenomenal achievement, it is also important to remember that much more still needs to be done to continue to improve the image of our sector and to encourage the industry to continually raise its standards and share best practice throughout the supply chain. It is only through an ever-improving image that our industry can continue to attract the very best to work in our fantastic sector."
Isabel Martinson, Considerate Constructors Scheme executive chairman, added: "This is a huge achievement for the industry. By reaching such a significant milestone, the Scheme is clearly demonstrating its ongoing importance in driving higher standards to improve the image and reputation of construction."
The Infrastructure and Project Authority's Head of Construction, Dr David Hancock added his congratulations to the Considerate Constructors Scheme in reaching this milestone: "It was a pleasure to present at the Considerate Constructors Scheme's National Site Awards earlier in the year, and it is great to hear that the 100,000th site has registered with the Scheme. It reflects well on the efforts that have been made by the industry. We are seeing much cleaner and tidier sites, efforts being made to minimise noise and having safety systems in place. This has had a positive effect on the environment and surrounding communities, and also on working conditions. We are seeing constructors providing a more supportive and caring environment for their workforce.
"This is great progress and I hope it will continue and help attract more people into the industry at a time when we are seeing much change and challenge around how the industry operates."