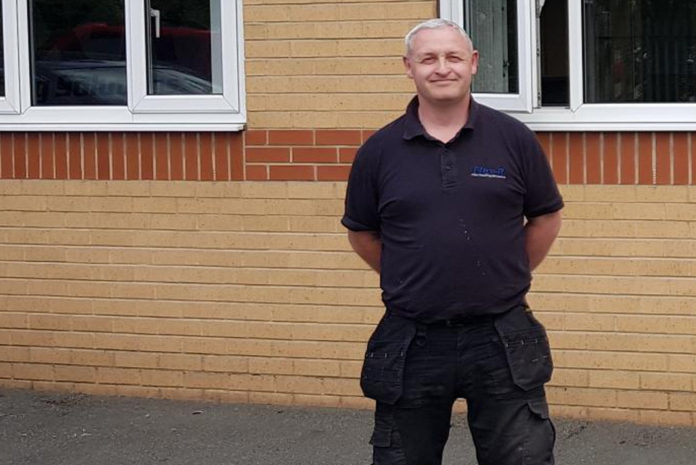 Flex-R is further investing in the level of support it offers to roofing contractors by bolstering its technical team with the appointment of Graham Glew.
Graham joins the five-strong technical team and will be based at the company's facilities in Huddersfield, where he will run training courses for its Specialist Registered Installers (SRIs) so that they are fully skilled and confident installing Flex-R's flagship flat roofing products RubberBond, Sure-Weld, LQD-R and the newly launched Enduris.
As well as delivering the initial classroom-based training, Graham's role will also see him working onsite alongside newly qualified SRIs to provide additional support to make sure that the roofing contractors are completely confident using Flex-R's systems.
Graham brings more than 35 years' experience as a roofing contractor to his new role with Flex-R, and this adds to the raft of time-served experience within Flex-R's technical team – who pride themselves on being able to fully support contractors because they have all been on the tools and know the challenges that contractors face.
"It's great to be joining a company that is so committed to supporting the roofing contractors who use its systems," said Graham. "Offering initial training is one thing, but being able to support roofing contractors for as long as they need it is another – but I completely understand the logic because, broadly speaking, once someone is fully confident with the ins and outs of a system, it becomes their default for all their projects.
"When I started in the roofing industry, there were basically pour and roll and asphalt systems, but things have moved on massively. It's great to make the switch from the contractor side to the product side because I get to work with market-leading systems all day, every day. 
"I'm looking forward to working with SRIs and playing a key role in increasing the amount of systems – such as Flex-R's RubberBond FleeceBack – that are used on flat roofing projects across my area in the North of England."
Ben Midwinter, national technical manager at Flex-R said that he was delighted that a roofing contractor with Graham's level of experience has joined the team.
"Graham is going to be a great asset to the technical team, and, given the amount of experience he has, he's going to be very relatable to our SRIs. They know he will be a safe pair of hands in helping them to get up to speed on our systems," said Ben.
The married father of two's appointment is the latest for the company, which has experienced strong growth over the last 18 months, including the opening of the facility in Huddersfield and a string of new appointments with the creation of new tiers of support, including regional specification managers.
Trading director Duncan Winter said that Flex-R continues to drive forward, with more appointments in the pipeline as the company looks to strengthen its position as the UK's largest supplier of EPDM products.
"We have world-beating systems, and we continue to build the infrastructure around these to offer support for those who install them and to create opportunities to get them specified on a wide range of projects and developments," said Duncan.
"It's a very exciting time to be at Flex-R, and we continue to see the benefits of bringing experienced people into the business, who are helping us to deliver very strong double-digit growth."