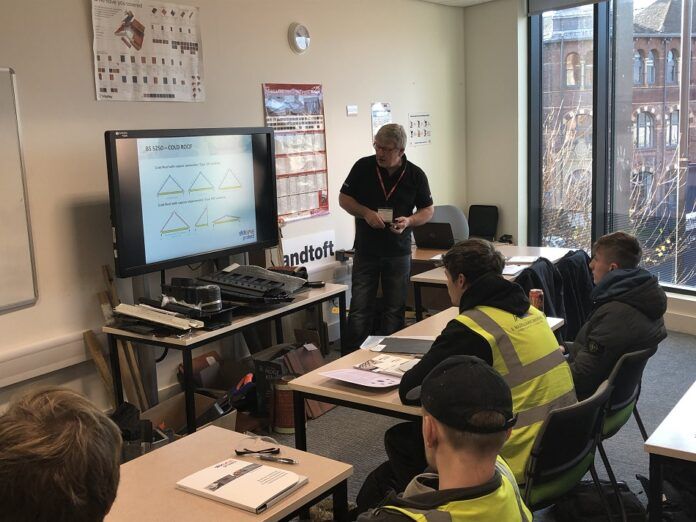 Glidevale Protect is supporting a number of colleges across the UK with products and technical guidance to help bridge the growing skills gap in the roofing market.
Glidevale Protect has been working with South Devon College, Bolton College and Leeds College of Building to supply the schools with a variety of its roofing underlays and accessories as well as undertaking CPD training to students covering subjects pertaining to the products supplied.
The product donations will be used as part of the colleges' practical lessons and will give the students real-life experience of undertaking hands-on installation on the training rigs.
In addition, Glidevale Protect's technical training manager Andy Mathers is also providing specific product training workshops to demonstrate how to install products safely and efficiently.
The Glidevale Protect team has delivered tailored CPD sessions, addressing the role hidden protectors such as roofing membranes and roofing ventilation products play in helping to control condensation and boost breathability in the roof space when used as part of a whole ventilation strategy.
Dale Yates, roofing lecturer at Leeds College of Building, said: "The support provided by Glidevale Protect is an invaluable resource for us which not only gives us access to industry leading products to use as part of our training, but also enables us to tap into their expertise and industry knowledge. This allows our apprentices the opportunity to really excel in all aspects of the trade, which is critical in them moving forward and gaining a good reputation in the roofing industry once they leave college.
"I have been working for Leeds College of Building as a roof slating and tiling tutor for just over two years now, and in this time the courses have significantly improved thanks to the support of businesses such as Glidevale Protect."