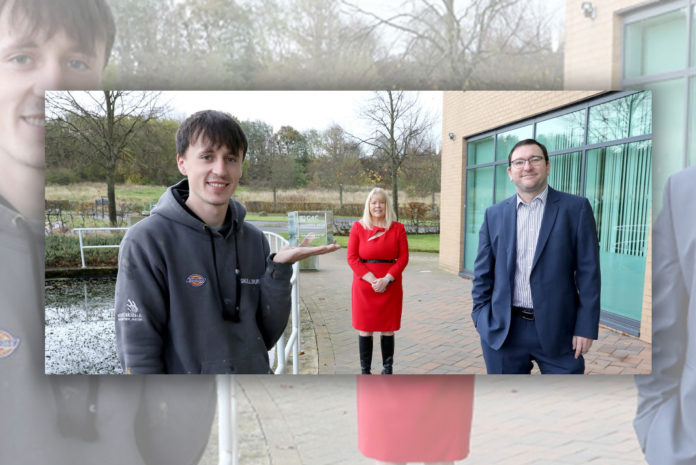 Award-winning, Stanley-based company Hodgson Sayers is celebrating the success of one of its rising stars as apprentice, Jordan Condren, has been crowned as Trade Apprentice of the Year in the virtual Generation4Change Awards.
The event, in association with Constructing Excellence North East, was due to be held at the Hilton Hotel in Newcastle but switched to a virtual ceremony due to COVID-19 restrictions.
Generation4Change is a strategic approach to harness the young professional voice and drive continuous improvement in the UK built environment industry.
Jordan beat off stiff competition in his category, with his entry highlighting how he had created a positive impact within the construction industry, including his commitment to personal development.
As an apprentice pitched roofer, covering slating and tiling at Hodgson Sayers, Jordan is already a multi-award winner, taking gold at the 2019 WorldSkills UK two-day roof slating and tiling competition and crowned Newcastle College Apprentice of the Year 2019.
As winner of the WorldSkills UK competition, Jordan was set to travel to China to compete on the international stage, demonstrating his roofing skills to over 20,000 visitors. However, due to the pandemic, this will now take place in 2021.
Speaking about his latest award, Jordan said: "I am honoured to win Trade Apprentice of the Year in the Generation4Change Awards. Although the competition was held online, there was still a great atmosphere and it was brilliant to see all nominees from across the region.
"The award means a lot to me because I was nominated by Hodgson Sayers. The company really puts its support behind my learning and encourages all apprentices to pursue individual goals. To be recognised by my company and now by the wider industry with this award, is a real boost for morale."
Jordan continued: "Although it is fantastic to win individual awards, I am very much a Hodgson Sayers team player and I was particularly pleased to see that acknowledged at the awards ceremony."
John Sayers, managing director at Hodgson Sayers, added: "We congratulate Jordan on his win, it is a great accolade for him and for the team.
"Jordan is ambitious and determined to keep progressing his skill set, whilst remaining grounded and humble. He is a role model for our younger apprentices and someone who can offer solid advice when it comes to the day-to-day routine of work and, of course, he can now also give invaluable guidance to other apprentices who are looking to enter competitions."
John concluded: "Jordan was nominated not just because of his great talent but because he has a long-term vision for his career progression and has already expressed his desire to become a senior leader."