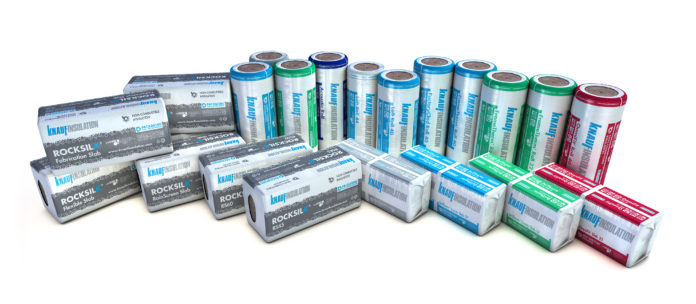 Knauf Insulation has launched new packaging technology to make it easier to choose, use, transport and handle its products while further reducing its carbon footprint.
The changes include new designs across the whole range, an upgrade taking its industry-leading compression technology to a 10:1 ratio, and new, more environmentally friendly packaging.
Vanessa Rae, marketing director of Knauf Insulation Northern Europe, said: "We know how important it is to choose the right product for the application quickly, and move and store it efficiently, whether in-branch or on-site.
"We also know that sustainability matters more than ever, so we've taken these steps to reduce our products' carbon footprint further, so that customers can rely on us to help them tick the green boxes for their projects."
New packaging
The new packaging designs feature bigger and clearer product names. Products are colour-coded into thermal conductivity groups, which is consistent across the whole Glass Mineral Wool range. Essential features such as the Euroclass A1 reaction to fire classification and ECOSE Technology, which is Knauf Insulation's unique bio-based binder, are more easily identifiable.
Meanwhile, the Earthwool brand has been phased out to simplify the branding structure, and the new Rocksilk brand has been introduced for its Rock Mineral Wool product range.
The further upgrade of the compression technology on the Glass Mineral Wool range enables, on average, 15% more insulation per roll and 25% more packs on each pallet for slabs.
Vanessa continued: "Space is always at a premium, whether in-branch, in a vehicle or on-site, so we've pushed our industry-leading compression technology even further. It means less handling and transport, and more efficient storage for all our customers across the supply chain."
These changes further reduce the company's carbon footprint. Enhanced compression means more products per truck, fewer vehicles on the roads and less packaging is used per m2 of insulation.
Knauf Insulation is also introducing a new packaging film which is made from a minimum of 30% recycled plastic. The new designs use less ink, which makes the packaging even easier to recycle.