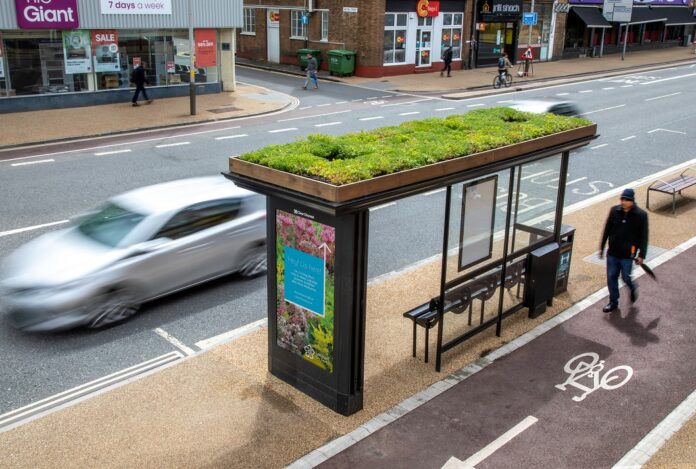 Leicester City Council has installed 30 new 'green' bus stops with 'living' roofs in the city centre as part of its ambitions to be carbon neutral and climate-adapted by 2030.
The initiative, delivered in conjunction with out of home advertising and infrastructure company Clear Channel UK and living roof supplier Wallbarn, has seen 30 new 'bee bus stops' bring a boost to biodiversity in the city.
Clear Channel selected Wallbarn and its award-winning British-grown M-Tray modular green roof system, which is designed with all elements of a traditional green roof contained within fully established pre-planted trays. The bus stops are planted with a blend of 18 different species of wildflowers, offering all year green with a carpet of flowers in summer.
Deputy City Mayor Councillor Adam Clarke, environment and transportation lead, said: "It's great to see the first of Leicester's new living roof bus shelters appearing across the city. We've had fantastic feedback from people who are as excited as we are to see this bee and butterfly friendly revamp of bus shelters taking shape."
Julian Thurbin, director at Wallbarn, added: "This is an absolutely fantastic project, providing the city with a 'bee superhighway' and all the many recognised benefits of living roofs. It's showcased how adaptable the modular system is and what can be achieved by uniting street furniture and green roofs."
>>Read more about green roofs here.