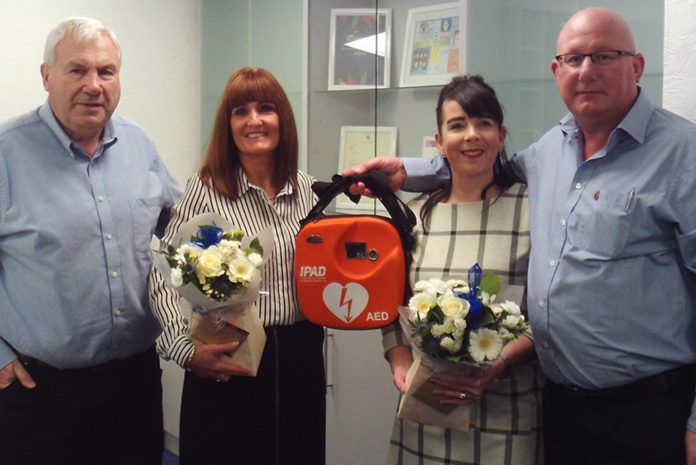 Earlier this week, Adrian, the co-owner of WestGate Metalwork was walking to his car in the car park to the rear of the SPV head office when he suddenly collapsed and became unresponsive.
SPV's office manager, Joanne Bennett, was alerted by one of his colleagues and thanks to both SPV office administrator Lisa Jones and Joanne, as well as the use of the SPV defibrillator, they proceeded to save his life.
As they rushed to Adrian's assistance, a gentleman had already started to perform Cardiopulmonary Resuscitation (CPR) on Adrian and the ladies continually checked for a response by shaking him on the shoulders and asking if he could hear them. With no response, they deployed the defibrillator for use.
It was determined that he required a shock, which was then delivered, and CPR followed and mouth to mouth. After a second analysis, a second shock was delivered, and this was the shock that successfully revived Adrian.
Adrian is currently in New Cross Hospital in Wolverhampton. Initially, it was believed that he would require stents, but Adrian is now currently awaiting a quadruple heart bypass.
Joanne Bennett and Lisa Jones from SPV Group said: "We wouldn't hesitate to help in the future. If we didn't have the defibrillator, the ambulance crew said it would have been a very different story. We are thankful that SPV has a defibrillator on site and that we were trained in its use to enable us to do what we did."
Unlike other cardiac events, sudden cardiac arrest does not discriminate and can happen at any given time, regardless of the patient's gender, age, current health condition or ethnicity.
The only definitive treatment for victims of sudden cardiac arrest is effective CPR, delivered on the ratio of 30 chest compressions to 2 rescue breaths and the use of a defibrillator. If treatment is delivered within 3-5 minutes of the victim collapsing, their survival chance increases significantly from 6% to 74%.
However, for every minute that treatment is delayed, the victim's survival chance decreases by 10%. Current ambulance response rates in urban areas stand at 11 minutes, meaning that early intervention with a defibrillator and bystander CPR is essential when saving someone's life.
SPV Group would encourage every business to purchase a defibrillator and train staff in its use as in this instance, along with the quick thinking of Joanne and Lisa, it was vital in saving someone's life.
SPV says it is proud of the actions of both Joanne and Lisa. SPV directors Howard and Adrian presented both ladies with some flowers to acknowledge their heroism and bravery.
Adrian has personally thanked both ladies from his hospital bed for saving his life along with his family members, including his three children who have all come to the SPV Offices to personally thank them and bring flowers to express their gratitude.
After Joanne called Defibshop to replace the electrode pads that were used in Adrian's rescue, Defibshop have awarded both Joanne and Lisa with Lifesaver Awards to recognise their bravery and actions when saving Adrian's life.