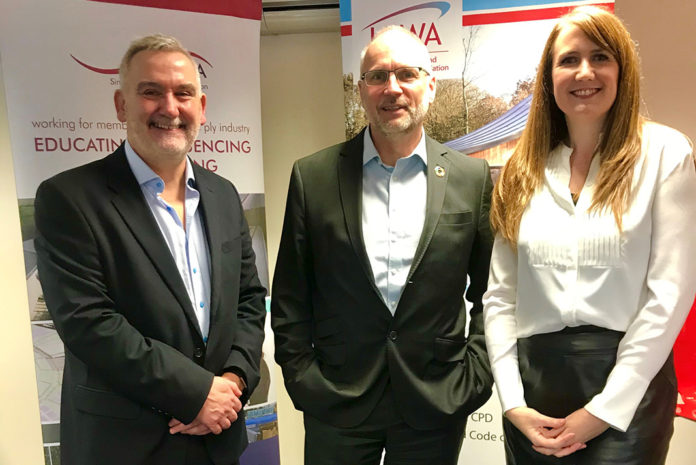 The Liquid Roofing and Waterproofing Association (LRWA), together with the Single Ply Roofing Association (SPRA), successfully hosted its first industry workshop with The British Board of Agrément (BBA) at the Gradient Flat Roofing Training Centre in Burntwood, Stafford, on January 30, to discuss and offer support to the flat roofing industry as it battles through a complex period of change.
Following the Grenfell Tower tragedy in 2017, organisations across the roofing industry are faced with major changes in Building Regulations and the need for verified product testing.
The event, which was the first of its kind and attracted more than 60 people from both manufacturing companies and contractor firms, saw the LRWA and SPRA working together to support and guide the flat roofing industry through the situation as it stands.
The aim of the event was to discuss the issues that are already having the biggest impact on construction, including the ban on combustible materials, which gave attendees the opportunity to look into the Building Regulations in 'Approved Document B – Fire Safety' in more detail.
The workshop also provided an overview of 'BS 8759: Guide to the design of balconies and terraces' – which is currently out for public consultation and discussed other areas that need clarification for the flat roofing industry. It also provided the opportunity to encourage the industry to develop closer working relationships with certification bodies such as the BBA. 
Newly appointed chief executive officer of the BBA, Hardy Giesler, spoke at the event, and gave an overview of the recent changes at the organisation and how it will continue to embrace a market-focused, client-driven objective.
Commenting on the workshop, he said: "For me, an important question we needed to discuss at the workshop was, 'how do we work together to lead change in construction?'.
"Working with trade associations such as the LRWA and SPRA is certainly an important aspect of engaging with our clients and markets. This is why events like these are crucial for the survival of our industry, and it was encouraging to see so many people talking through current issues, networking and sharing problems, which we aimed to find answers for."  
Sarah Spink, chief executive officer of the LRWA, added: "On behalf of both the LRWA and SPRA, I'd like to thank everyone who came along to this workshop. It was an absolutely fantastic event and a great example of how associations should be working together – especially as we're trying to navigate a number of huge changes in our industry. The ban on combustible materials is a particularly important topic, and one which has caused confusion within our sector already.
"In a post-Grenfell era, product certification will only become more important, so it is at times like these where we need to work together and tackle issues head-on. The workshop was a great success and we look forward to working in partnership with other key bodies more closely in the future."