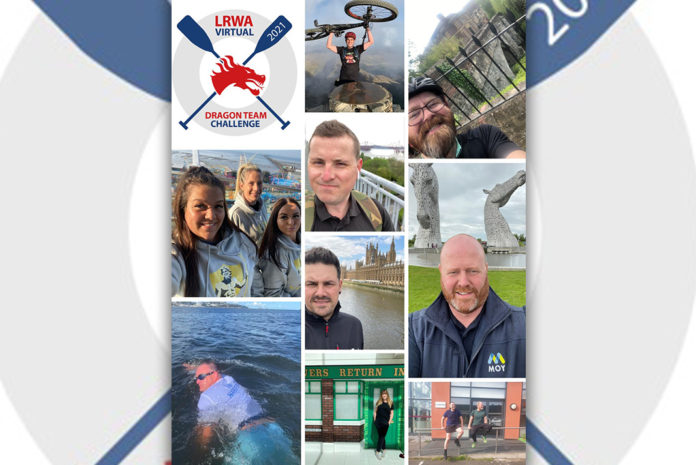 A Virtual Dragon Team Challenge, organised by the Liquid Roofing and Waterproofing Association (LRWA), has raised £6,280 for the property industry charity, LandAid, and attracted 99 participants.
The event took place from 10–28 May and tasked teams of up to 11 people to walk, run, cycle or swim as far as they could in 30 minutes to try and achieve the highest number of kilometres.
Bonus kilometres were available for the photo of the activity in the most original place and the team with the highest fundraising. Teams could also gain extra kilometres by sharing photos or videos of their efforts on social media.
Achieving the gold medal for the second-year running was Westwood Warriors (Westwood Liquid Technologies), with the team clocking up 105.2 km, including bonus kilometres.
The silver medal went to Axter Allstars (Axter) and bronze to Decothane Dragons (Sika Liquid Plastics).
The prize for the most original photo, which was voted for by LinkedIn members, was Lew Arnold from Westwood Warriors, pictured outside the Houses of Parliament.
Proteus Spartans (Proteus Waterproofing) raised the most money for LandAid, totalling £1,460.
Other teams to take part were Moy Magic (Moy Materials), Enter the Dragon (Polyroof Products), Radmat Rebels (Radmat Building Products), TRI Athletes (Triflex) and the LRWA Legends (LRWA).
Sarah Spink, chief executive officer of the LRWA, said: "We've been overwhelmed by the success of this year's event and the efforts of all the participants. We set out to raise £3,500 for LandAid, so have smashed our target and collectively travelled more 670km along the way. The funds raised will help youngsters to get a roof over their head.
"The reaction on social media has been fantastic. This has really helped to get people talking about the challenge and contributed towards us raising a significant amount of money for a very worthwhile cause."
The LRWA launched the Virtual Dragon Team Challenge for the first time in 2020 as an alternative to the Dragon Boat Regatta, which had to be cancelled because of the coronavirus pandemic.