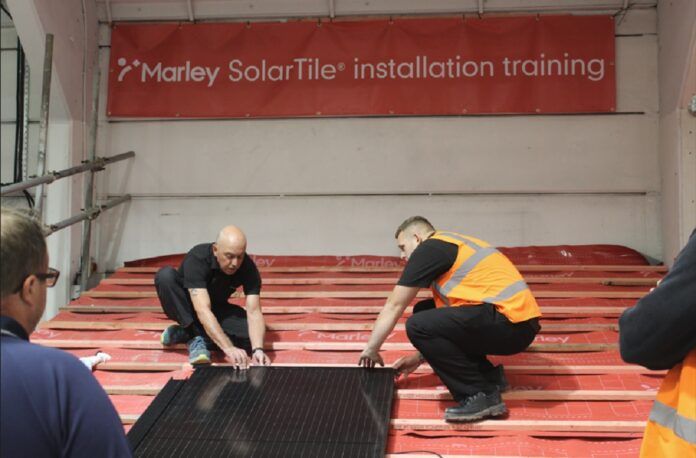 Marley has launched a new solar PV training course to help roofing contractors enhance their knowledge in the technology and expand their business opportunities.
The one-day sessions of Marley's SolarTile Installation Training Course, held at its training centre in Burton-upon-Trent, offer a comprehensive and in-depth overview of solar PV, how it works, solar PV system design, practical installation training, and tips to consider for complex system arrays.
The course also guides attendees through the solar PV installation accreditation process, explaining the Microgeneration Certification Scheme (MCS) and covers the District Network Operator scheme.
The training course also provides installation guidance on how to install SolarTile, Marley's integrated solar PV solution, and complementary accessories such as ArcBox, as well as sharing how energy generation calculations are undertaken.
Daniel Redfern, marketing manager at Marley, commented: "To meet the forecast growth in solar specification, more roofing contractors with the required skills and accreditations are needed to ensure that UK homes & buildings can access renewable energy.
"We are delighted to have launched the SolarTile Installation Training Course. The training sessions will assist those in the roofing industry to gain an in-depth understanding of solar PV and its role as an important renewable solution.
"It will also provide those attending with the practical steps around installation so that contractors are confident with the technology, enabling them to expand their business into the world of renewable technology.
"In addition, the course contents will ensure attendees fully comprehends the role of installation accreditation and permissions so that they can focus on delivering best practice and remaining compliant at all times."