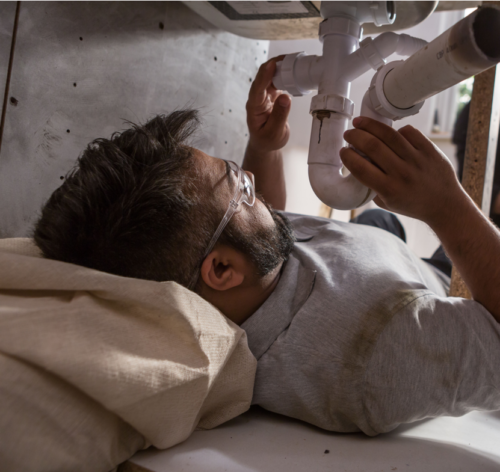 New research conducted by Toolstation revealed that almost three-quarters of builders, bathroom and kitchen fitters, carpenters, electricians, plumbers and multi-trade / handymen have suffered from work-related injuries, aches, pains and strains. 79% of those surveyed believe it has affected their ability to carry out their work, as well as having a negative impact on their personal life.
The survey of 422 Toolstation customers was carried out in June 2017 and highlights the challenges faced by the trade when injuries occur – particularly the financial and emotional impact. 74% of respondents were sole traders, with over half of those surveyed confirming they'd needed to take time off work due to their injuries resulting in loss of income and causing high levels of stress, as summarised by one respondent who said: "Being self-employed, if you get injuries at work it can have an extremely adverse effect on your mental wellbeing, causing stress. If you are unable to work then you are unable to earn."
As a result of the pressure to work and earn, many in the trade say they just "get on with it" despite their pain, as highlighted in comments including: "I find it very hard to recover from my continuous pains and strains. The facts are that these injuries require resting the affected areas, but the reality is that my aches and pains are overshadowed by the impact of financial loss due to not working."
Some responses were more disquieting: "Things can be a struggle, but I'm self-employed so if I don't carry on, I lose my house."
In terms of the nature of the aches and pains that mostly affect the trade, 71% reported back problems, whilst 64% had trouble with their knees. The neck, shoulders and hands / fingers were also key problem areas.
79% of carpenters and 75% of builders blamed the lifting or handling of heavy loads as the main cause of problems. Repetitive movements and working in cold and wet conditions were also important causative factors across all trades.
Toolstation says the impact of the difficult conditions in which the trade has to work cannot be underestimated. The research generated responses that included tradespeople saying that due to injuries, they had to consider certain elements of jobs before undertaking them, whilst others spoke of the impact on family life, with comments including: "My body is very tired after work, which makes it hard to have time with my kids, which upsets me. I'm always tired, which is draining mentally."
Whilst 43% of respondents felt their overall health was good, a majority believed a range of things would help them improve their health even further, particularly losing weight and improving physical fitness. Reducing stress, getting better sleep and a better work / life balance would also help for a third of tradespeople.
John Meaden, marketing director at Toolstation, said the research highlighted the daily pressures tradespeople are under to maintain their income despite experiencing regular physical pain and mental suffering and said: "Our research reveals the extent to which tradespeople suffer injuries, aches, pains and strains in getting the job done day to day, but more so it highlights the financial and emotional impact of those on individuals and their family life. As a leading supplier to the trade, we believe we have a responsibility to support our customers in looking after themselves, and so are working on ways to help improve the health and wellbeing of tradespeople."