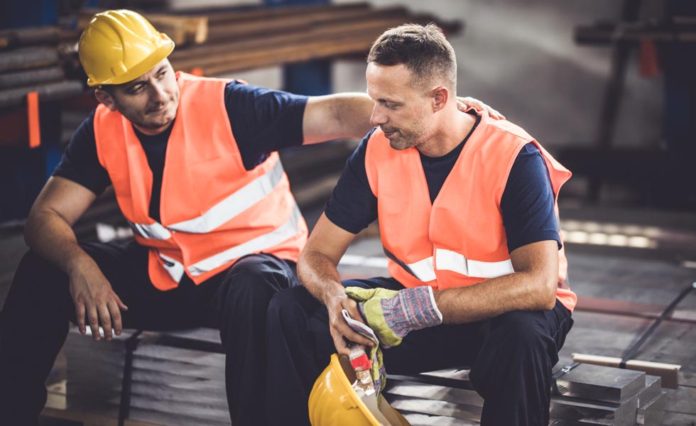 The National Federation of Roofing Contractors (NFRC) has published a free to download Toolbox Talk to support roofers who are facing high levels of stress and fatigue, due to the ongoing shortage of materials and skilled labour, as well as rising material prices.
According to the NFRC's State of the Roofing Industry, the first quarter of the year saw over two thirds (68%) of roofing contractors reporting material shortages, 44% reporting skill shortages and almost nine out of 10 (89%) reporting price rises.
This pressure is having a negative impact on roofers' mental health and wellbeing, particularly those on the front line who are facing daily requests for information such as when materials will be delivered or if additional labour is required. The NFRC has therefore put together a Toolbox Talk that contractors can give to their teams to help build resilience in this difficult time.
The Toolbox Talk, aimed at contractors, provides practical advice on managing stress, building resilience, and promoting positive wellbeing during this difficult time for the industry. This includes some of the following tips:
Control the controllable
Regularly evaluate and review
Focus on solutions and opportunities, not just problems
Learn something positive from a negative experience and then move on
Connect regularly with friends and colleagues
Maintain your fitness
Eat healthily – reducing sugar levels and add protein to meals
Integrate walks into your daily routine
Get good sleep levels – ideally seven or eight hours a night
Consider taking a 'digital detox'
Take regular breaks away from the workplace.
At the end of the Toolbox Talk, the NFRC highlights the Lighthouse Construction Industry Charity as one place where operatives can go to get more support. The Lighthouse Charity's Helpline (0345 605 1956) is entirely confidential and is open 24 hours a day, seven days a week.
Commenting on the Tool Box Talk, Gary Walpole, safety, health and environmental officer, at the NFRC, said: "Our industry is going through an unprecedented period. Roofers are faced with a combination of extremely high workloads, long lead times and shortages on most roofing products, labour shortages and rising material prices. Unsurprisingly this is causing a considerable amount of stress and anxiety, which can, in turn, lead to other workplace accidents, especially when our members work in a high-risk environment, and that is why we have put this Toolbox Talk together."
Gary continued: "It is important to recognise what you can and can't control. Many of the issues we are facing as an industry, such as worldwide material shortages, are out of our control, but we can control how we respond to them, as well as how we look after our wellbeing and that of our teams. This Toolbox Talk helps with this by providing some practical tips and advice to promote positive mental health and build resilience to the issues we are currently facing.
Gary concluded: "If anyone is struggling at this time, and needs someone to talk to, do not hesitate to call the Lighthouse Charity's helpline on 0345 605 1956. There is someone on the other side of the line at all hours every day of the week, ready to listen."
­­You can find a link to the NFRC's Toolbox Talk here.