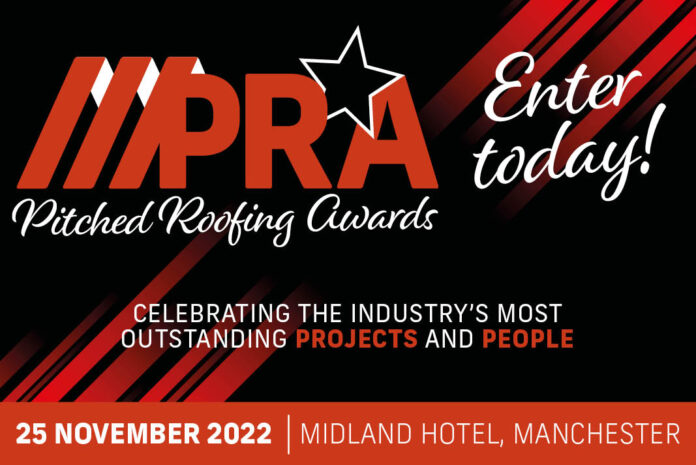 There are just a few days left to enter the Pitched Roofing Awards 2022!
Entrants have until Friday, 22 July to enter the awards. This will be the final deadline so please ensure you submit your entries before this time!
After bringing the sector together in a successful live event last November, the Pitched Roofing Awards team is excited to be returning on Friday 25th November, 2022 at the iconic Midland Hotel in Manchester.
Considering the challenges we have faced as an industry, there is no better year for you to enter the Pitched Roofing Awards, to give your business that competitive edge by demonstrating your award-winning potential in front of the industry's leaders, as well as provide a fantastic networking opportunity to meet new clients and reaffirm relationships with existing ones.
Being shortlisted for the awards will not only earn you and your company recognition within the pitched roofing sector, but it will also open doors to securing new business opportunities. Earning a 'highly commended' or ultimately, winning an award will also gain entrants national recognition and provide the opportunity to make their mark on this important market.
This year, nominations are open across 14 categories which you can view here.
How to enter?
The awards entry process is simple, making it an easy platform to gain recognition and shout about your successes. Entry to the Pitched Roofing Awards is FREE, and you can submit as many entries as you wish.
So, if you've completed a project over the past 12 months that you're proud of, then make sure you start your online entry early to ensure that you and your team put together your strongest entry possible and increase your chances of becoming one of this year's finalists.
The more information you give and the better the images, the more likely your entry will stand out.
The Pitched Roofing Awards team would like to thank BMI Redland as its headline partner, and Associated Lead Mills (ALM), ALM HM, SSQ, Master Roofers UK, and Wienerberger as category sponsors and Cedral Roofing as table gift sponsor, with Northstone as its drinks sponsor.
The RCI team would like to wish you the best of luck with your entries and we hope to see you on Friday 25 November, 2022 in Manchester!
If you would like to know more information about the sponsorship opportunities available for the Pitched Roofing Awards, contact Tony Brown at tony.brown@markallengroup.com or by calling 01732 748059 / 07979 506896.