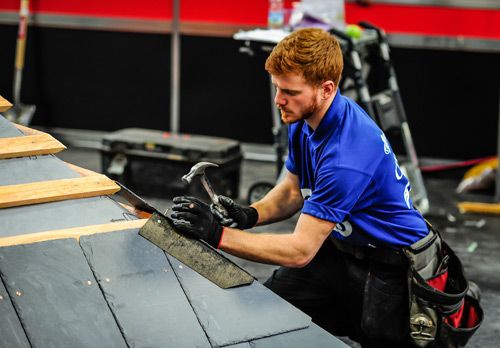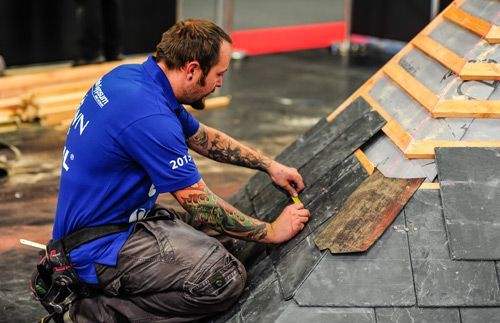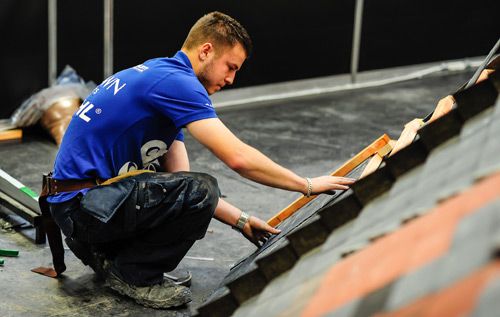 The National Finals of SkillBuild – "the largest multi-trade competition in the country" – were held at the NEC, Birmingham, on 19th – 21st November. The event, which is run by the Construction Industry Training Board (CITB) with the endorsement of WorldSkills, saw upwards of 600 competitors take part in the National Finals more than 60 skills competitions including Carpetry, Dry Walling Systems, Painting and Decorating, Bricklaying and Roof Slating & Tiling.
Donal Harkin, of D Harkin & Co. Roofing, was victorious in the Roof Slating and Tiling event. Donal trained at the Northern Ireland Roof Training Centre and his tutor was Gordon Penrose, managing director of Penrose Roofing.
George Simpson of Michael Bailey Roofing secured second place and Riley O'Sulivan of St Leger Homes, Doncaster, came third. George attended Cornwall College (St Austell) and was tutored by Sean Sullivan, and Riley attended Leeds College of Building and was tutored by Chris Messenger.
Ray Horwood, chief executive of the National Federation of Roofing Contractors (NFRC) was quick to praise the standard of skills on show: "The standard this year has been exceptional and it bodes well for the future of the pitched roofing sector. The NFRC would like to congratulate the winners and all those who participated in this excellent event. With all the current issues surrounding skills shortages and recruitment, this event has once again shown we have the colleges, training centres and instructors to provide the training and guidance for those who want to prepare for a career in the roofing sector."
Roofing Cladding & Insulation (RCI) would like to congratulate Donal, George and Riley on their fantastic achievements, and wish them every success in their careers.