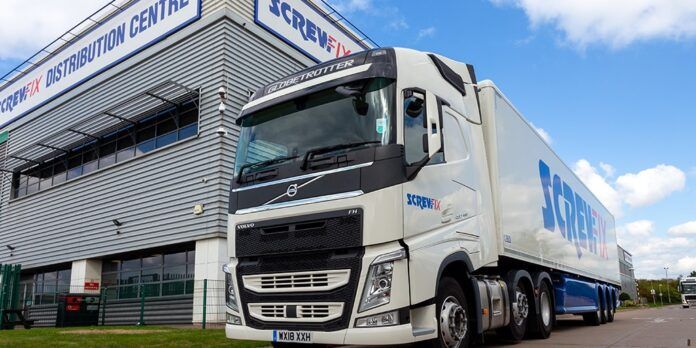 Screwfix has announced that 85% of its logistics fleet now refuels with Hydrotreated Vegetable Oil (HVO) as part of its sustainability initiative to eliminate carbon emissions.
Led by the Screwfix Logistics Team in partnership with its logistics partner Wincanton PLC, the business launched a trial in 2022, involving 48 HGVs operating from the Screwfix distribution centre in Lichfield, Staffordshire. Screwfix worked with its truck manufacturer to make sure that the HVO specification fuel was compatible with the fleet, before installing HVO fuel tanks at its Distribution Centres.
Vehicles operating from Stafford DC joined the HVO usage in March 2023, driving the green biofuel usage to 85% of the entire Screwfix's fleet – using approximately 90,000 litres of HVO per week. HVO reduces a journey's CO2 (Carbon Dioxide) emissions by up to 90% and Particulate Matter by 83%.
Ian Howe, supply chain and logistics director at Screwfix, commented: "Being a responsible business is hugely important to Screwfix and tackling our climate impact by reducing carbon emissions is crucial. With over 870 stores across the UK and Ireland, transport is a key focus for Screwfix's commitment in serving local communities, and we are determined to drive a real and material difference, in reducing emissions and improving air quality. The results are impressively encouraging, and we're exploring how we can go further."
Ian Keilty, chief operating officer at Wincanton, added: "Today's announcement marks an important milestone for both Wincanton and Screwfix as we build towards our shared target of net-zero emissions by 2040. It's also a great example of how Wincanton supports its partners to drive positive change within their operations, and we're proud to be delivering this initiative for such a valued, long-term customer."