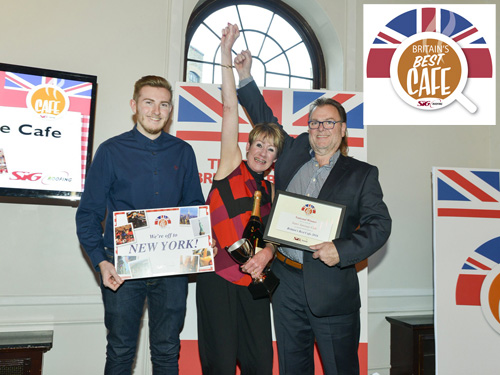 Following the success of SIG Roofing's national competition to find Britain's Best Cafe last year, RCI is delighted to announce its continued support, as the new search for the 2017 title of Britain's Best Cafe gets under way.
The excitement and interest surrounding the competition in 2016 showed just how much cafe customers value their regular stop-off for a great British breakfast, tasty lunch or simply a strong cup of 'builder's tea'.
The 2017 competition has been announced with the help of last year's winners Gail and Chris Murray from the Super Sausage in Potterspury, near Milton Keynes.
The national competition is organised by SIG Roofing with support from its 120 local branches, whom will be encouraging their own customers to vote and support their favourite local cafe.
Once all the votes have been counted in November, Andrew Wakelin, SIG Roofing managing director, will present the lucky national title-holder and 14 regional winners with their awards at a prestigious London Venue. In addition to the national title, this year's cafes will be vying to win the trip of a lifetime to Cuba to sample the amazing sun, sea and of course, local delicacies.
Commenting on the collaboration and RCI's role in supporting Britain's Best Cafe, marketing manager at SIG Roofing Janine Brady said: "We're so pleased to have the opportunity to work with RCI again this year. The magazine itself provides an ideal platform for reaching out to the roofers and contractors who use our products and working together, we are perfectly positioned to generate the support needed for local cafes in our search.
"With our network of local branches covering the UK from Inverness to Plymouth, we have long-standing and close relationships with contractors right across the country. Knowing their daily routine inspired the idea of supporting and promoting the cafes that support them through the working day. These are businesses that, like us, understand the value of great product and high service standards."
The 2016 competition attracted 500 entries from cafes and tens of thousands of public votes. With voting opening in July, SIG Roofing and its branch teams are now gearing up for the competition and we look forward to updating you on how the competition develops in future issues of RCI.