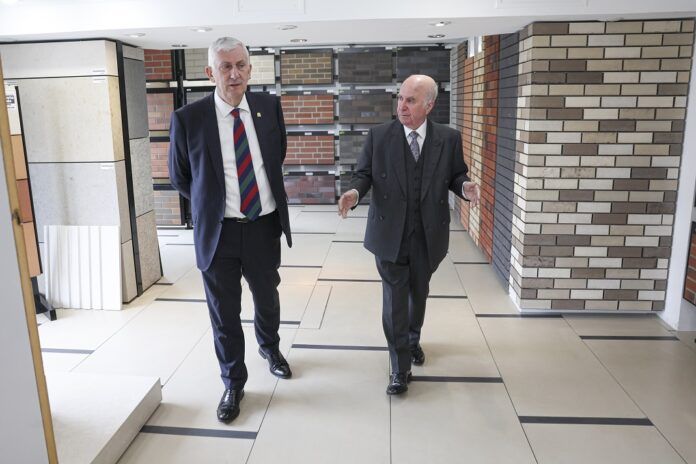 Chorley MP and Speaker of the House of Commons Lindsay Hoyle has visited Shackerley to learn more about the investment programme the company has completed, securing local jobs in Lancashire and preparing the company for further growth.
The facades systems manufacturer has invested in an additional factory, doubling its manufacturing capacity, in an investment programme that has also included new machinery, new technology and additional storage facilities. The expansion programme has also led to job security for Shackerley's existing team, along with new jobs and an economic boost for the company's supply chain.
Sir Lindsay toured one of Shackerley's Lancashire factories where he could chat to staff and find out more about how new jobs at Shackerley are helping to create sustainable employment and support the levelling up agenda in Lancashire.
Founder and CEO of Shackerley, Brian G Newell MBE, greeted Sir Lindsay at the company's headquarters and talked him through the Shackerley's product range and recent projects supplied by the business. He was able to explain Shackerley's custom-built machinery, as well as highlighting the company's best practice approach to quality checks, product testing and traceability.
Brian commented: "We are delighted that Sir Lindsay Hoyle has taken time out of his busy schedule to come and see what we do here at Shackerley, learning more about our contribution to both the local economy and the construction industry.
"We are proud to be innovators in the façade sector and to have raised the bar for our industry in terms of quality and safety. Sir Lindsay's visit was a great opportunity to showcase all of that."