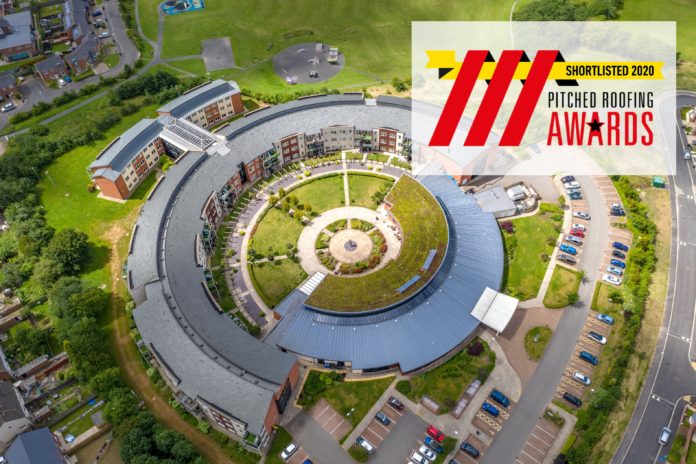 For over 40 years, SSQ has led the way in Britain's natural slate sector, importing Spanish slate and Argentinian Phyllite to grace ambitious buildings across the country and the world.
Now, that commitment to offering the high-quality roofing material has been recognised with no less than five finalist spots in the prestigious Pitched Roofing Awards from RCI.
The company's work with Stuart Wheeler Roofing on the renovation of Cornwall's famous Bodmin Jail has been shortlisted in the 'Best use of a roof tile for a heritage roof' category.
Both its collaborations with RS Miller Roofing on the Broad Meadow retirement complex in Dudley, and with NRA Roofing & Flooring Services on Millbridge Junior Infant School have been recognised in the 'Best use of a slate tile for a commercial project' category.
What's more, two SSQ projects have been named finalists in the 'Best use of a slate tile for a domestic project category' – one that it completed with Richard Soan Roofing Services in East Preston, and another with Dean Stockwell on the Cottontails project in Little Gransden, near Cambridge.
"It goes without saying that we're delighted with our five Pitched Roofing Award nominations," said SSQ founder Ahmed El-Helw.
"It's not only a testament to our decades-long commitment to providing the finest natural slate, and the fantastic partner organisations we work with, but the huge versatility of our range.
"The projects shortlisted spanned everything from private homes to large commercial installations, and even a historic national landmark in the form of Bodmin Jail.
"They also used a variety of SSQ products, too. Bodmin Jail and Broad Meadow used our Argentinian phyllite, Riverstone. The Millbridge Junior School project used Del Carmen, the Spanish slate that first made the SSQ name – and the two residential developments used Domiz, another Spanish slate.
"All-in-all, this had made for an excellent start to 2021!"
The Pitched Roofing Awards will be held virtually on February 26 February.