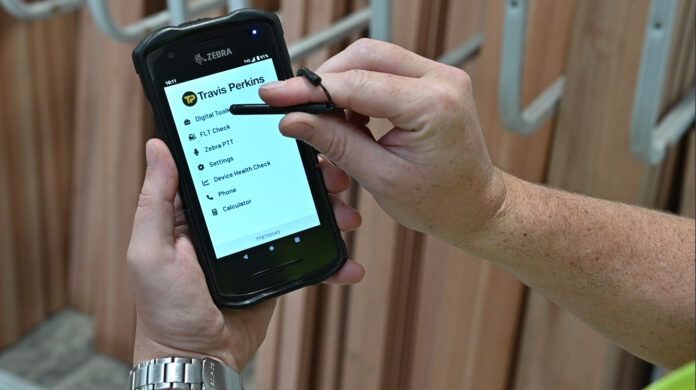 Travis Perkins has invested in a digital toolkit for colleagues at its 550 branches across the UK which digitises paper-based processes to help improve the customer experience and manage branch inventory.
The digital roll-out means that Travis Perkins colleagues can at the tap of a button manage inventory, create customer tickets and add notes for the counter, all on a handheld device.
It replaces the old customer ticket system, where customers were given a physical ticket for their orders.
The digital toolkit includes a Yard Sales app to create customer orders and add notes for timber and building materials in the yard; a Location Maintenance app where colleagues can view and edit products and locations; and a Perpetual Inventory Count to track the quantity of stock on hand and give customers increased confidence that product is available.
The toolkit also has several other benefits, allowing colleagues to file Near Miss Reports, carry out digital forklift checks and much more, with many more features planned for the future.  
The digital toolkit was developed over several years and was tested in partnership with Travis Perkins colleagues, who provided detailed feedback and insights to help its development. It was initially trialled in 15 branches across the country, before a phased launch across all branches which was completed earlier this year.
Laura Milner, digital product owner from Travis Perkins, said: "We know our customers are incredibly busy, so time and availability of materials are really important to them. Our new digital toolkit is making it faster and more efficient for them and means they can concentrate on what matters most.
"The toolkit has also been embraced by our colleagues and it frees up their time to deliver great customer service and gives an accurate reflection of products in branch."